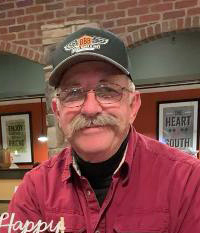 Darius W. Ward, age 72, of Brookville, Indiana died unexpectedly Wednesday, November 10, 2021, in the Emergency Department at McCullough Hyde Memorial Hospital in Oxford, Ohio.
Born October 23, 1949 in Manchester, Kentucky he was one of four children born to the late Claude & Audrey (Hunter) Ward.  He was a Vietnam Era Veteran of the Army National Guard.  On August 1, 1969 he and the former Norma Sue Troutman were united in marriage, and she survives.
A jack of all trades, he was an Auctioneer and Wholesaler, and an accomplished leatherworker.  In his younger years, he was active in rodeo and showing horses, and a member of the Butler County Mounted Patrol in Hamilton, Ohio, and also a member of the IOK Rough Riders Association.
He attended First Baptist Church of Brookville and Red Life Church in Brookville for many years.  In his leisure time, he enjoyed riding his motorcycle and taking many motorcycle trips with Norma. He also enjoyed golfing, watching westerns, and spending time with his family and grandchildren.  If you knew Darius, you knew he never met a stranger; and if he did, it wouldn't take long for that stranger to be a friend. Not only did he have the gift of gab, he had a warm caring heart and was a great listener.
Along with Norma, his loving wife of over 52 years, he leaves three children: Amy Ward of Brookville, Indiana, Darius 'Dee' (Laura) Ward II of Oviedo, Florida, and Justin (Trisha) Ward of Brookville, Indiana; two brothers, Doug Ward of Camden, Ohio and Dennis Ward of Brookville, Indiana; nine grandchildren, Ashley Braunwart, Guissella Monteros, Camden Ward, Macey Ward, Tanner Ward, Callie Ward, Dristen Ward, Levi Henninger and Zola Norrod.
In addition to his parents, he was preceded in death by a sister & brother in law, Diane & Joe Stout; as well as two sisters in law, Vicki Ward and Lee Anne Ward.
Family & friends may visit from 10:00 A.M. till 1:00 P.M. on Monday, November 15, 2021 at Phillips & Meyers Funeral Home, 1025 Franklin Avenue, Brookville.
Rev. Mike Holman will officiate the Funeral Services at 1:00 P.M., Monday, November 15, 2021 at Phillips & Meyers Funeral Home.  Burial with full military honors by the Bernard Hurst Post #77 of the American Legion will follow in Sims Cemetery in New Fairfield.
Memorial contributions may be directed to the Bernard Hurst Post #77 of the American Legion or the Wilbur Dennison Post #2014 of the Veterans of Foreign Wars Brookville.
The staff of Phillips & Meyers Funeral Home are honored to once again serve the Ward family, to sign the online guest book or send personal condolences please visit www.phillipsandmeyers.com.