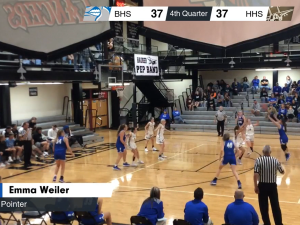 Batesville Girls Basketball went 1-1 on its opening weekend.
On Friday, the Bulldogs couldn't hang on to a late lead at Hauser and lost to the Jets 49-46.   BHS had a narrow one point edge at both at the half and the end of the third quarter.
Batesville had three players reach double-figure scoring.  Alyson Peters led with 12 points, Bre Wells scored 11 and Calley Kaiser followed with 10.
Kaiser had a double double with a team-best 10 rebounds.  Peters was one carom shy of the same feat with nine boards.  Carly Pride had six assists, three steals and four rebounds to go along with five points.
The Bulldogs returned home to play New Castle Saturday and rebounded nicely to defeat the Trojans 45-31.
"Coming off a tough loss at Hauser, I was very pleased with the way the girls responded," BHS head coach Bryan Helvie commented. "We corrected a few things from the night before. It was definitely a step in the right direction."
"The ladies did a nice job on the boards, limited the number of possessions New Castle had and capitalized on a few of their turnovers," added Helvie.
Peters, again, led the Dogs in scoring with 16 points.  Sophie Gesell was next in line this time with 12.  Sarah Ripperger, Wells and Kaiser each added four points.
We thank coach Helvie for the information.