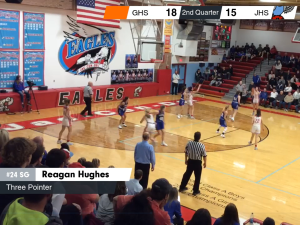 In a battle of preseason ranked girls basketball opponents Friday, 1A-No. 4 Jac-Cen-Del defeated 3A-No. 16 Greensburg 53-50 in Osgood.  It was 24-22 Eagles at the half and 35-33 JCD after three periods.
Desiree Sparks had a double-double performance for the Osgood gals with 17 points and 11 rebounds.  Teammates Reagan Hughes scored 11, Emma Newhart had six points and five rebounds, Aundrea Cullen scored five and dished out four assists while Jalee Rider also tallied five points and had four steals.
Unofficial leading scorers for Greensburg included Mylie Wilkison with 15 points and 11 each from Kayla Tamm and Leah West.
Greensburg won the JV game 40-36.  The Pirates and Eagles were tied at 23 after the third quarter.
Top scorers for JCD's reserves were Kinsey Rohls with 11 and Sophie Sullivan with nine.  Sullivan had 10 rebounds and Rohls pulled down seven off the glass.
We thank Jac-Cen-Del coach Scott Smith for the information.