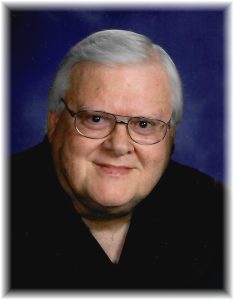 Elton Lee Linville passed away on Thursday, November 4, 2021 in Batesville. He was 77 years old. The son of Harold and Edna (Kuhn) Linville was born on May 17, 1944 in Shelbyville, IN.
In 1962, Elton graduated from Shelbyville High School before earning his degree from Hanover College in 1966 followed by his MAT from Indiana University.
Elton worked for Sunman Dearborn School for 41 years before retiring in 2007. He taught, social studies, was a high school counselor and spent many summers teaching drivers education.  After he retired he worked at Ivy Tech Community College for a year. Elton met the love of his life, Sherry Stone, and married her on August 23, 1969 in New Albany, IN.
Outside of school the pursuit of collecting, researching, buying and selling American Brilliant Period cut glass became a passion of the couple. This hobby/business was the reason for traveling all over the US. A treasured bonus of all the traveling has been the many friends they met. As an active member of the American Cut Glass Association, Elton served as a district director, board member, chapter president, speaker, dealer, convention chairman, and Anderson Study Group member along with chairman and member of the authenticity committee.
Other hobbies included cooking (being part of some dinner clubs) and music. After being involved in the college choir and chamber singers at Hanover, Elton sang for numerous weddings and funerals.
He belonged to several education organizations, Indiana State Teachers Assoc., National Education Assoc., and Sunman Dearborn Teachers Assoc. serving in various ways for the local and district groups. Elton was a member of St. John's UCC Huntersville, where he served on the church council and sang in the chancel choir, men's choir and ecumenical choir along with being a soloist.
Elton was known to be a patient person. He was kind, caring and always saw the positive in everyone. He usually avoided confrontation and being the center of attention, but was very easy to talk to and always a gentleman. Sherry's grandmother, always said he was 'the answer to her prayers" for Sherry.
Survived by his wife, Sherry; nieces Diane (Tim) Shackelford of Indianapolis, and Debbie Hyatt of Whiteland; nephews Tom (Maryann) Crafton and Jerry (Peggy) Crafton, both of Winter Haven, FL.
Preceded in death by parents, and sister, Janice Crafton.
Funeral Services will be Wednesday, November 10, 2021 at 10:00am at St. John's United Church of Christ, (Huntersville) in Batesville. Pastor Joey Feldmann and Rev. David Johnston officiating. Burial to follow in St. John's Church Cemetery.
Memorials may be given to St. John's UCC Elevator Fund or East Central HS Senior Scholarship Fund. They may be brought to services or mailed to: Meyers Funeral Home, P.O. Box 202, Batesville, IN 47006.
Please feel free to leave a memory or a message of comfort to Elton's family in the online guestbook at www.meyersfuneralhomes.com