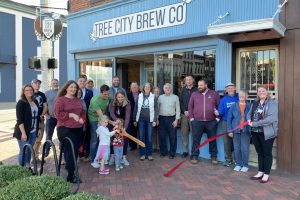 GREENSBURG, IN — The Greensburg/Decatur County Chamber of Commerce held a ribbon-cutting ceremony for Tree City Brew Co Wednesday afternoon.
Tree City Brew Co offers a wide array of craft beers on tap, and beer and cider are brewed on-site.
Jarrad Klosterkemper, an Oldenburg resident who owns the microbrewery with his wife Ann, said curiosity prompted him to open his own microbrewery.
"Really, trying all of the new craft breweries in Cincinnati, wondering if that's something I can do myself," Klosterkemper said. "It's something I've enjoyed doing, something I can do with my kids around."
Tree City Brew Co is a family-friendly establishment, and Klosterkemper encourages customers to bring their children.
Although they have food available, the Klosterkempers encourage patrons to carry in food from local restaurants.
Tree City Brew Co is located at 101 North Broadway Street on the west side of the Courthouse Square in Greensburg.
For more information, call (812) 593-6478 or visit their Facebook page.