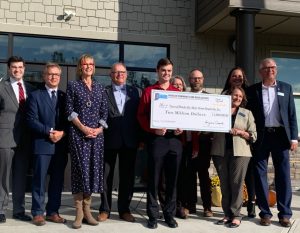 BROOKVILLE, IN — Indiana Lt. Gov. Suzanne Crouch paid a visit to Brookville late Thursday afternoon to present a ceremonial check representing the $2 million dollars the town will use to revitalize historic buildings downtown over the next several years as part of the "PreservINg Main Street Pilot Program."
"Brookville and all of our other small rural communities that have vibrant Main Streets are what are driving the economic engine of Indiana," Crouch said during a ceremony at the Valley House Flats.
The Town of Brookville and Main Street Brookville collaborated on the grant application and presentation.
A total of 14 communities across Indiana applied for the funds administered by the Indiana Office of Community and Rural Affairs (OCRA).
After the field was whittled down to five finalists, it was eventually decided that both Brookville and Kendallville in the northern part of the state would be awarded the grant money.
Other speakers at the event included State Representative Randy Lyness (R-House District 68), State Senator Jeff Raatz (R-District 27), OCRA Executive Director Denny Spinner, and Main Street Brookville Vice President Gage Pace. Main Street Brookville Executive Director Nancy Main served as emcee for the event.