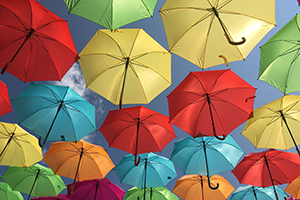 BATESVILLE, IN — A reminder that Saturday is the last day to take in the Umbrella Sky Project in downtown Batesville.
The last scheduled event under the display will be the Batesville Skatepark Advocacy's Skate Jam from 4 until 8 pm Saturday.
Once the umbrellas come down, the Batesville Area Arts Council (BAAC) plans to put holiday lights on the structure, and then a different display will be installed next summer.
The Umbrella Sky Project of Portugal went up over the summer, with an official ribbon-cutting ceremony taking place over Independence Day weekend.
The world-renowned exhibit has been featured in just a few cities in Europe and the United States before coming to Batesville through the efforts of the BAAC.
Businesses downtown and elsewhere have seen an uptick in people coming through their doors as a result of the display, which was drawn numerous visitors from Southeastern Indiana and other parts of the Tri-State and beyond.
Those who are interested in seeing the new displays are encouraged to visit www.baacindiana.org or follow the BAAC Facebook page for updates.