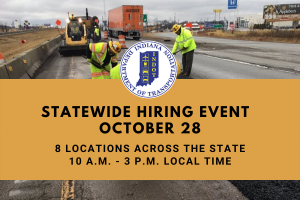 AURORA, IN — INDOT will host a Statewide Winter Hiring Event Thursday, October 28 from 10 am until 3 pm at multiple locations, including the Aurora Sub-District.
Full-time winter seasonal employees earn $20/hour and on-call snowplow drivers earn $24/hour.
Winter seasonal employees must have a Commercial Driver's License (CDL) at the time of interview.
Winter seasonal CDL Drivers who work full-time may qualify for $250 sign-on and $500 retention bonuses.
Although INDOT is primarily recruiting for winter seasonal positions, the agency also plans to recruit for other job openings including Highway Technicians, Mechanics, and Engineers.
Registration is not required to attend the event.
INDOT recruiters will be on hand to answer questions and provide more information on open positions and careers with the agency.
Learn more by visiting INDOTjobs.com.