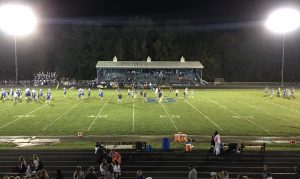 BATESVILLE, IN — The Batesville School Board has approved the sale of $4 million in bonds for capital improvements.
Plans call for the installation of artificial turf on the high school football field, locker room renovations, and improvements to the track among other upgrades.
Superintendent Paul Ketcham says the turf will allow for band competitions, spring sports, and physical education classes to use the high school football field 180 days a year, along with use on weekends by youth football and during the summer.
Ketcham added there's an even more exciting component to the project.
"We're doing this in a tax-neutral process," said Ketcham. "There will be absolutely no increase to individuals' property taxes."
Work on Phase I will begin at the conclusion of the varsity football season, with completion targeted in August 2022 before the start of the '22-'23 school year.
Phase II is scheduled for the following year.
The BHS football facility dates back to the mid-to-late-1980s.
"It's just time to provide our student-athletes, our band members, our youth programs, better facilities," Ketcham added.