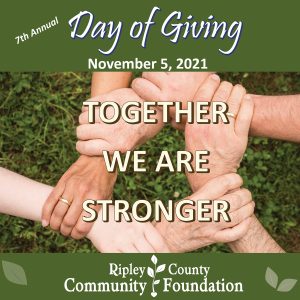 BATESVILLE, IN — The Ripley County Community Foundation is hosting its seventh annual Day of Giving on Friday, November 5. Between the hours of 8 am and 4 pm, citizens of Ripley County are encouraged to visit the Community Foundation's office to donate to their favorite cause or fund.
Donations made into an endowed (permanent) fund during the Day of Giving may be eligible for a 50% match into the endowed fund of the donor's choice. Matching donations shall not exceed $5,000 per fund, and a total of $50,000 is available in matching funds, which shall be committed to donations on a first-come, first-served basis.
"The Board of Directors is pleased to approve of the $50,000 match for the third consecutive year. Offering the match is just one way the board is able to express their appreciation and demonstrate their support for the causes and places near and dear to a donor," stated Amy Streator, Executive Director of the Ripley County Community Foundation. Streator further noted, "This year's theme is, 'Together We are Stronger,' and the Ripley County Community Foundation firmly believes that through the power of teamwork, together, we can achieve more than we can alone. That's why we are teaming up with an organization to offer a supply drive for this year's Day of Giving."
The Community Foundation will be collecting school supplies and overnight items to support Totes for Tots & Teens, also known as Project T3. Totes for Tots & Teens provides foster children in Southeastern Indiana with overnight bags and backpacks full of school supplies. Individuals who contribute one or more items to benefit the program will have their name entered into a drawing to win a $500.00 grant to the qualified charity of their choice.
New items that can be donated to Project T3 include the following: backpacks, two-pocket folders, index cards, 12" rulers, pencil boxes, black/blue/red packaged pens, highlighters, pink erasers, white school glue, pointed student scissors, earbuds, coloring books, activity books, sudoku or crossword books, baby toys, and diaper bags. Donations should be dropped off at the Community Foundation's office, located at 13 East George Street, Suite B, in Batesville.
Monetary donations can also be made in-person at 13 E. George Street, Suite B, in Batesville, over the phone at (812) 933-1098, or online at www.rccfonline.org.
(Ripley County Community Foundation press release)