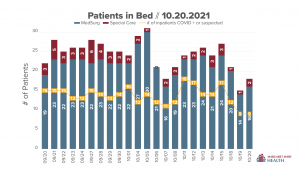 BATESVILLE, IN — Margaret Mary Health (MMH) this week has seen a decline in overall patient volumes, including COVID-positive patients. The hospital currently has 18 patients on the Medical/Surgical floor, with two of those patients in the Special Care Unit. Nine patients are Covid-positive, with seven of those unvaccinated and two vaccinated.
Testing for COVID-19 increased slightly from the previous week, but the positivity rate has decreased, with 42 patients testing positive and a current positivity rate of 22.8%. (Please see chart for more details on testing results)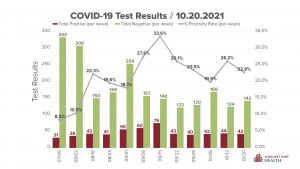 The Ripley County and Franklin County statuses on the state metrics map remain unchanged this week, although MMH did see a decrease in the Covid seven-day positivity rates from the previous week for both counties. Ripley County is now at a 10.93% seven-day positivity rate and remains in the "orange" status. Franklin County is at 16.63% and stays in "red."
Franklin County is currently one of only four counties in Indiana at the red advisory level.