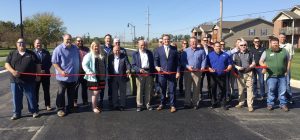 GREENSBURG, IN — The City of Greensburg snipped the ribbon on Veterans Way Phase II Wednesday.
"So this, for lack of a better term, ends the construction of a multi-year, multi-administration project to connect U.S. 421 and State Road 3 in the city, but really it's only the beginning of our opportunity as far as economic development and growth for our city," said Mayor Joshua Marsh.
He was joined at the ceremony by former Mayor Dan Manus, current and former Greensburg Redevelopment Commission members, plus a number of other community leaders.
The Phase II groundbreaking took place in 2020, but Mayor Marsh says the $8 million total project for both phases has been in the pipeline for a long time.
"This actually started right around the time Honda announced it was coming to town back in 2006, so we've had a lot of years to work on it, to dream about it, envision it," Marsh added.
Phase I was completed several years ago.
The newly-christened road is expected to open to vehicle traffic in the next seven days.