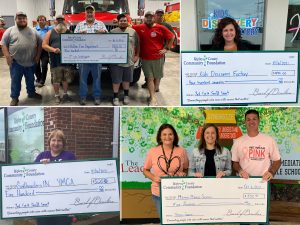 RIPLEY COUNTY, IN — The Ripley County Community Foundation recently awarded 2021 3rd Cycle Small Grants.
The purpose of a small grant is to assist a charitable organization with needs that arise during the calendar year.
Congratulations to this year's recipients:
● Holton Volunteer Fire Department ($500.00) to buy new gloves for volunteer firefighters.
● Kids Discovery Factory ($470.00) to purchase a tent, signage, and activity pamphlets to be used at community events.
● Milan Middle School ($500.00) to support the Leader in Me Program by turning students' artwork into vinyl graphics that will be displayed around the school.
● Southeastern Indiana YMCA ($500.00) to assist in the purchase of a new washer and dryer for childcare.