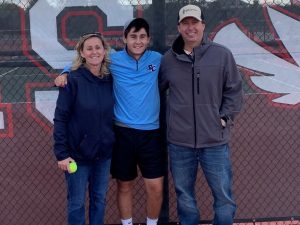 Franklin County AD Denny Dorrel has often referred to Wildcat boys' tennis player Jack Stirn as "The Legend."  High praise for sure, but deservedly so as the senior has now punched his ticket to the IHSAA State Finals in undefeated fashion.
During Saturday's individual regional tournament in Fishers, Stirn dispatched both of his opponents to capture another trophy and raise his unblemished season record to 24-0, including 6-0 in the postseason.
During the 10 am semifinal, Stirn blanked Triton Central's Alex Crouse 6-0, 6-0.  Then in the 2 pm championship, Stirn beat Southmont's Adam Cox, but had to come from behind to do it.
Stirn dropped the first set 6-2, but then rallied to win the next to sets convincingly 6-0, 6-1.
The IHSAA Boys Tennis Individual State Finals at Carmel High School begin with the quarterfinals on Friday, October 22 at 10 am.  The semifinals and finals follow on Saturday, October 23 at 10 am and 2 pm respectively.
We thank Mr. Dorrel and the IHSAA for the information and to Franklin County Athletics for the photo.