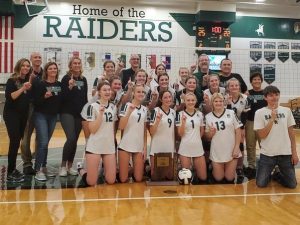 Saturday in Versailles, South Ripley won the 2A-45 Volleyball Sectional, its fifth overall and first since 2016.
The Raiders run to the title began Thursday with a 3-0 victory over Austin: 25-19, 25-19 and 25-21.
Ripley's Rachel Meyer and Sarah Meyer combined for 25 kills, Lydia Cornett was 17 of 18 serving with 6 aces, Brionna Linkel tallied 23 assists while Cornett and Rachel Meyer teamed up for 39 good serve receptions on 42 attempts.  The digs were very balanced among several players.
The ORVC champions coached by Lisa Gilpin and Kyle Jolly then took on the conference runners up in Saturday's semifinals.  South Ripley beat Southwestern 25-14, 25-19 and 25-13.
Rachel Meyer was the heavy hitter for the Green and White garnering 19 kills. Sister Sarah had eight.  Linkel served up five aces on a 16 of 17 effort from the back line and also logged 20 assists. In addition, Linkel paired with Rachel Meyer and Cornett for 33 digs.  Gracie Gunter and Rachel Meyer combined for 21 serve receptions on 24 attempts.
For coach Chris Johnson's Rebels, Kylie Eccles, Marissa Naylor and Raygan Crawford tallied a total of 17 kills.  Meaghan Kramer and Eccles collected 27 digs.  Naylor and Ashleigh Ream had 42 good serve receptions on 48 attempts. Kramer led the team in assists with 15.
North Decatur was South Ripley's opponent in Saturday's final.  To get there, the Chargers posted earlier wins over Milan and South Decatur in 3-0 fashion.
ND held Milan to 8, 19 and 15 points in round one.  The one-two punch at the net for the Chargers was in fine form against the Indians as the pair combined for 26 kills.  Bohman also booked six aces while Stapp led the team in digs with 10.  Both players contributed eight positive serve receptions against no errors.  Sami Luttel set up 28 points on assists.
The Chargers limited county rival South Decatur to 15, 22 and 9 points in the semifinal. (Stats were not available.)
Then in the title tilt, South Ripley secured its first sectional championship in five years by topping four-time defending champion North Decatur 25-22, 25-18 and 25-22.
The Meyers pounded out 28 combined kills and eight blocks for the Versailles crew.  Cornett and Linkel split a total of 26 digs equally.  Katelynn Samples dug out nine balls.  Linkel set up the offense with 29 assists while the trio of Gunter, Cornett and Rachel Meyer were 37 of 38 collectively on serve receive.
ND stats were not available.  The Chargers end their season at 23-9.
South Ripley heads to the 2A Mitchel Regional on Saturday, October 23.  The 22-10 Raiders will face the 28-3 Linton-Stockton Miners around 12:30 pm in the second semifinal.  Linton won its eighth sectional crown Saturday and first since back-to-back titles in 2016 and 17.
The first semifinal at 10 am will feature North Posey (25-5) against Mitchell (25-6).  Saturday marked the fifth sectional championship for Vikings of NP but first since 1990.  The tournament host Bluejackets claimed sectional title number seven and first since 2006.
We thank coach Southwestern coach Chris Johnson plus the volleyball programs of South Ripley and North Decatur for the information.  We also thanks South Ripley Schools for the picture.