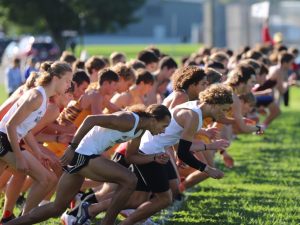 At the Rushville Cross Country Regional Saturday, the host Lion boys' team placed fifth to qualify for next Saturday's Shelbyville Semi-State at Blue River Park.
To qualify for a semi-state, a team must finish in the top five. Also, any individual among the top 10 runners from non-advancing teams qualify as well.
The Lions Kyle Stanley finished 14th in 17:31 to earn All-Regional honors (Top 20) and will lead the Rushville boys team on to Shelbyville.
Connersville's Owen Baker just missed qualifying as an individual by three seconds. He was 11th among runners on a non-advancing team. He was 28th overall in 18:04.  Ben Maze was Franklin County's top runner placing 35th in 18:19.
Rushville's girls placed ninth.  Although the Lady Lions did not qualify as a team, RCHS's Olivia Wehr did individually.  She was 27th overall and ninth among runners on a non-advancing team with a time of 21:52.
Esther George was Franklin County's top runner placing 46th in 22:48.
For complete results of the Rushville Cross Country Regional, please click here.
Unedited reports from area coaches…
Franklin County's Stacey Nobbe: Freshman, Esther George, the only Franklin County girls cross country regional qualifier, finished her final race of the season in 46th place. She ran the 5K distance in 22:48. Her personal best time of the season was 22:39 at the Batesville Invitational. Even her best time of this season wouldn't have qualified her for semi-state. Now that she knows the times to beat, she will be ready next season to try to lower her time and continue beyond regionals. As a freshman, Esther had a great cross country season.
Seniors, Ben Maze and Adam Grant, ended their cross country careers for Franklin County at Regionals on Saturday, October 16th. Ben Maze finished in 35th place with a time of 18:19. He needed an 18:00 finishing time in order to make the cut to continue to semi-state as an individual qualifier. He was on track to do that during the first two miles, but the faster than normal start caused him to suffer during the 3rd mile, so he could not sustain the faster pace all the way to the end. Adam Grant finished 64th out of 90 competitors with a time of 18:55. Both Ben and Adam have been solid competitors throughout their entire cross country careers. Ben qualified for regionals all four years that he competed.
Rushville's Amy Tush: Our boys and girls Cross Country teams hosted the 2021 IHSAA Regional meet Saturday. It was a true cross country race with mud, hills, rain, and good competition. Both teams ran great races in front of a hometown crowd. The Lions team advanced to the Semi-state competition to compete against the top 20 teams in the southeastern part of the state.
The Lions were again led by Senior Kyle Stanley (14th place), sophomore Charlie Sterrett (34), junior Ryan Schnidler (37), freshman Wyatt Jacobs(46), and freshman Hunter Parmerlee (49). Other varsity finishers were Trent Dyer (75) and Isaac Krodel (81). The last time that an RCHS boys cross country team advanced to a Semi-State Competition was 2012. Most of these kids were just starting school.
After the disappointment of Sectionals, these boys had something to prove. Senior Kyle Stanley said, "The only way to make up for losing Sectionals is to qualify the team for Semi-state."
This is a runner who knows he will qualify as an individual, but all he cared about was getting the team to Semi-state. He is a great competitor, and a very humble individual. I am so proud of how well they all competed on a slow, soggy course. They kept confidence in their training, and once they believed they could qualify, they did. They left it all on the course, and that was the goal.
The girls' cross country team has a lot to be proud of as well as they finished the 2021 season. The Lady Lions were led by Junior Olivia Wehr. She continued to show confidence in herself and rose to the occasion to earn a spot in the Semi-state next weekend. All week we worked to get her mindset in the right place. We talked about strategy and race scenarios. It came down to the last 200 meters, and she was approximately the 11th individual. Only 10 qualify for the next round. Wehr kicked it in passing the two girls that we had discussed, and our plan came together. Wehr placed 27th overall and was the 9th individual. She showed her toughness and it paid off.
Next for the Lady Lions was Ashley Whitham (55), Mia Norvell (58), Maddy Hankins (59), and Senior Savannah Westphal (63) who wrapped up her final XC race. Savannah had a tremendous year as she split the number 1 runner title with Wehr all season, but got quarantined at just the wrong time. She will continue to help Wehr this week to prepare for the Semi-state. Other finishers were Sophia Kemple (73), and Yanitza Norvell (81).
The next competition for Wehr and the boys Cross Country team will be the IHSAA Semi-State Championships, in Shelbyville, this Saturday morning, October 23rd, at 10:30 and 11:15.
Boys 5k Results
Kyle Stanley – 14th place- 17:31
Charlie Sterrett – 34th place – 18:17
Ryan Schnidler- 37th place -18:20
Wyatt Jacobs 46th place -18:35
Hunter Parmerlee 49th place – 18:38
Trenton Dyer 75th place -19:17
Isaac Krodel 81st place -19:26
Girls 5k Results
Olivia Wehr – 27th place – 21:52
Ashley Whitham- 55th place 23:13
Mia Norvell -58th place – 23:25
Maddy Hankins – 59nd place – 23:34
Savannah Westphal 63rd – 23:44
Sofia Kemple – 73rd place -24:41
Yanitza Norvell- 81st place – 25:24
We thank the IHSAA for the information and Samantha Wagner for the photo.