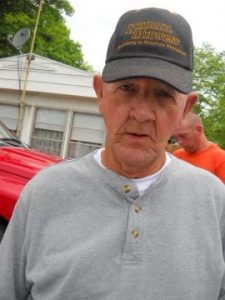 Charles Willliam Lunsford, 87, of Greendale, Indiana, passed away Sunday, October 17, 2021, in Florence, Kentucky.
He was born May 14, 1934, in Clay County, Kentucky son of the late Elisha Lunsford and Daisy (Jewel) Lunsford.
He worked as a Truck Driver for Royalty Trucking, retiring after over 20 years of service.
He was a member of Holmes Hill Church of Christ. Charles enjoyed yard work, playing the Banjo, Bluegrass music, and the hills of Kentucky. In his younger years, he loved to coon hunt. He loved time spent with his family, especially his grandchildren and great-grandchildren.
Charles is survived by his loving spouse Helen (Bevis) Lunsford, children, Tim (Debbie) Lunsford of Georgetown, KY, Darlene (Dana) Willoughby of Aurora, IN, Kenneth Wm. (Penny) Lunsford of Orlando, FL, Ray (Sheila) Lunsford of Moores Hill, IN, Steve (Wendy) Lunsford of Versailles, IN, Mark Lunsford of Moores Hill, IN, Judy (Mark) Duer of Rising Sun, IN, Mike Lunsford of Moores Hill, IN, Dale (Patricia) Lunsford of Moores Hill, IN, Darrin (Rosalyn) Lunsford of Connersville, IN, Eric (Nicci) Lunsford of Moores Hill, IN, Brandon Lunsford of Greendale, IN; siblings, Hazel Mangold of Moores Hill, IN, Ann (Gene) Snelling of Aurora, IN, Virgie Ritchie Howard of Milan, IN, and Glenn (Cathy) Lunsford of Orlando, FL; 25 grandchildren; numerous great-grandchildren,and several great, great-grandchildren.
He was preceded in death by his parents; son, Wayne Lunsford; brothers, Luke, Henry, and Roy Lunsford.
Friends will be received Thursday, October 21, 2021, 4:00 pm – 7:00 pm at the Rullman Hunger Funeral Home, 219 Mechanic Street, Aurora, Indiana.
Services will be held at the funeral home, at 7:00 pm with Brother Dana Willoughby officiating.
Contributions may be made to the Family or toHolmes Hill Church of Christ. If unable to attend services, please call the funeral home office at (812) 926-1450 and we will notify the family of your donation with a card.
Visit: www.rullmans.com