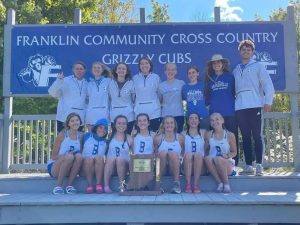 The Batesville Lady Bulldogs won the 2021 IHSAA Girls' Cross Country Regional at Franklin Community Saturday by one point over the tournament hosts.  East Central's Lady Trojans finished third and the Batesville boys also placed third to all qualify as full teams for the Shelbyville Semi-State next Saturday at Blue River Park.
Course conditions ranged from very soggy to very muddy due to the heavy rain from the night before.  It was also a bit on the breezy side.  Temperatues, though, were very fall-like and great for running.
To qualify for a semi-state, a team must finish in the top five. Also, any individual among the top 10 runners from non-advancing teams qualify as well.
Local girls advancing as individuals include (overall finish) South Ripley's Lanie Nicholson (3rd) and Deborah Murphy (33rd) along with Greensburg's Emily Mangels (38th).
Moving on for the local boys are East Central's Cole Benegas (15th) and Michael Schwebach (28th), Milan's Benjamin Riehle (17th), Rising Sun's Peyton Merica (24th) and Jac-Cen-Del's Josh Pohle (26th).
The top local finishers in each race both placed second.  East Central's Rachel Campbell posted a runner-up mark of 20:28 behind the time of 20:07 recorded by champion Victoria Jackson of Whiteland. And Batesville's Benjamin Moster ran 17:02 behind Griffin Hennessy of Center Grove who crossed first in 16:36.
Top five advancing girls teams (place/points): Batesville 1st/57, Franklin Community 2nd/58, East Central 3rd/89, Center Grove 4th/103 and Whiteland 5th/111.  Other local girls team results: South Ripley 8th/190, Greensburg 9th/217 and South Decatur 10th/308.
Top five advancing boys teams (place/points): Center Grove 1st/51, Whiteland 2nd/75, Batesville 3rd/79, Mooresville 4th/80 and Indian Creek 5th/100.  Other local boys team results: East Central 7th/153, Greensburg 8th/207, South Decatur 9th/269 and Lawrenceburg 10th/281.
Local girls earning All-Regional honors (Top 20) include:
2 Rachel Campbell, East Central 20:28
3 Lanie Nicholson, South Ripley 20:29
5 Kaylynn Bedel, Batesville 20:32
8 Ava Hanson, Batesville 20:57.2
9 Megan Allgeier, Batesville 20:57.8
14 Adeline Brewer, East Central 21:08
17 Lily Pinckley, Batesville 21:23
18 Maria Lopez, Batesville 21:34
19 Sophie Myers, Batesville 21:38
Local boys earning All-Regional honors (Top 20) include:
2 Benjamin Moster, Batesville 17:02
4 Eli Loichinger, Batesville 17:10
13 Daren Smith, Batesville 17:58
15 Cole Benegas, East Central 18:06
17 Benjamin Riehle, Milan 18:07
For complete results of the Franklin Community Cross Country Regional, please click here.
Unedited reports from local coaches follow.