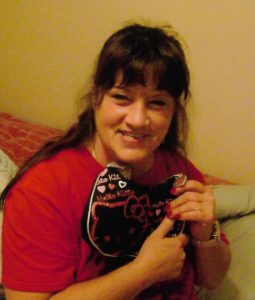 Dawn Julia Schroeter, 54, of Aurora, Indiana, passed away Thursday, October 14, 2021.
She was born October 25, 1966, in Bradenton, FL, daughter of the late Shirley (Gilbert) Cook.
Dawn worked as an Asst. Manager for Wal-mart, having over 10 years of service.
Dawn loved to hike and camp. She was an avid reader and loved to play online games. She was a fantastic cook and baker. Dawn collected Blue Willow China. She adored cats, especially the family cat, Patch Adams. She loved time spent with her family and friends.
Dawn is survived by her loving spouse of 11 years, Roger Schroeter, children, Jenna (Brandi) Dale of Lawrenceburg, IN, David Dale of Aurora, IN; siblings, Gene (Audra) Dale of Aurora, IN and Lynn (J.T.) Dimiglio of Deland, FL.
She was preceded in death by Mother, Shirley Cook.
Services will be held at the convenience of the family.
Contributions may be made to the American Cancer Society or the WWF (World Wildlife Fund). Please call the funeral home office at (812) 926-1450 and we will notify the family of your donation with a card.
Visit: www.rullmans.com