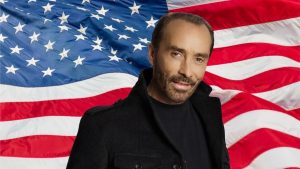 UPDATE:  A threat of rain has forced organizers to move Friday night's Lee Greenwood concert indoors to the Greensburg High School Auditorium.
The show was originally scheduled to be held outdoors at the Rebekah Park Amphitheater.
Greenwood, a legendary singer/songwriter, will perform with a full band starting at 7 pm Friday night, doors open at 6 pm.
Tickets are still available for $5.
Doors open at 6 pm.
Original story: 
GREENSBURG, IN — A legendary singer will be in concert later this week in Greensburg.
Lee Greenwood will perform at Greensburg Chautauqua at 7 pm Friday at the Rebekah Park Amphitheater.
"It is our first large-scale concert we've had since we had it (the amphitheater) built and opened early in the pandemic, so we're really, really excited to see it come to fruition," said Mayor Joshua Marsh.
Greenwood has released more than 20 major-label albums and has charted more than 35 singles on the Billboard country music charts.
Of course, he is best known for his signature song "God Bless the USA," which was written and released in 1984.
Tickets for Friday's concert cost $5 and are available at the Greensburg High School bookstore, the Greensburg/Decatur County Public Library, and at www.gchschautauqua.com.