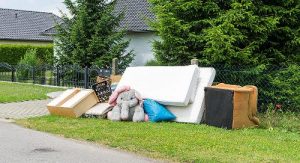 BATESVILLE, IN — The City of Batesville's final large trash collection of 2021 will take place on Saturday, November 6.
Mayor Mike Bettice said there are some things to keep in mind as you set those large items by the curb.
"If you're taking furniture out, make sure you wrap it in plastic, and if you're taking mattresses out, make sure you wrap them in plastic before you take them out to the curb," Bettice said.  "If there are other large items you want to dispose of, get them out before there before 5 am."
That's when Rumpke will begin collecting large items that day.
The City schedules large trash collection four times a year.
Additional information and guidelines can be found on the city's website www.batesvilleindiana.us.