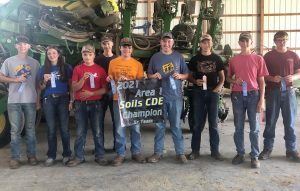 BATESVILLE, IN — The Batesville 4-H and FFA Soil teams have qualified for the state competition on Saturday at DuBois County.
The teams competed recently at the Area One Soils Evaluation Career Development Event in Butlerville.
The 4-H team earned 1st place honors. Jason Emsweller finished in 2nd place; Josh Honnert in 3rd; Luke Meer in 6th place and Paul Meer came in 10th.
The FFA team came in 4th.  Adam Meer led the team with a 5th place finish; Kyle Williamson was 18th; Rhea Miller came in 22nd, and John was 26th. Jacob Werner participated as an individual and came in 46th.