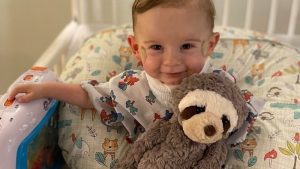 LAWRENCEBURG, IN — A young boy from Lawrenceburg who died earlier this year is being remembered by the Cincinnati Zoo & Botanical Garden.
Oliver Nicholson was born with several rare disorders which led to his passing in February at 16-months-old.
He was a huge fan of sloths, and the Zoo renamed its sloth habitat "The Oliver Nicholson Memorial Sloth Habitat" in his memory on Monday, which would have been his 2nd birthday.