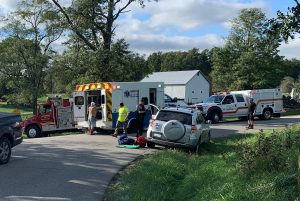 DILLSBORO, IN — One person was flown to the hospital following a two-vehicle crash shortly before 4 pm Tuesday at the intersection of Bells Branch and Cutter roads near Dillsboro.
The second driver involved in the accident was not hurt.
Responding agencies included the Friendship Volunteer Fire Department, the Dearborn County Sheriff's Office, Dillsboro Police Department, Air Methods Bedford, Ohio County Rescue, and Affordable Todd Wrecker & Repair.
The Air Care helicopter from the University of Cincinnati Medical Center was also dispatched to the scene before being told to disregard the call.