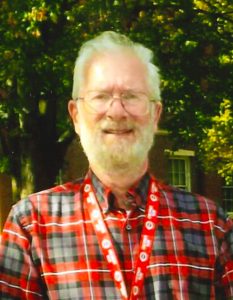 Mr. Matthew Ray "Matt" Nightingale, age 61, of Vevay, Indiana, passed away in his sleep on Tuesday October 12, 2021. He was born in Houlton, Maine on November 25, 1959 and moved to Fort Wayne, Indiana in 1960. He lived in Indiana the rest of his life, living the past 15 years in Vevay, Indiana at the Community Mental Health Center. Matt was a prolific artist, and had blossomed under the guidance of his art teacher, former Vevay artist, Meredith Luhr. He had been active at the Switzerland County Art Center, and he also greatly appreciated the Historical Museum in Vevay. He also enjoyed playing his clarinet, and, in fact, had proudly purchased a new (used) one, which he said was much better. He enjoyed his life in Vevay and sharing time with his friends and companions, especially, Mark Scott. He was fortunate to have the friendship and support, too, of the kind staff at the CMHC, Debbie Sefton- Price, Brittany Barrett and its former director, Andrea Kappes.
Matthew is survived by his caring stepmother, Carolyn Nightingale; his stepbrothers, Steven (Shelly) and Christopher (Claudia) Bower; his brothers, Alton and Donald Nightingale; his aunts, Patricia Myers and Mary Nightingale and his numerous nieces and nephews.
He was preceded in death by his father, Paul E. Nightingale; his mother, Charleen "Hope" (Barton) Nightingale and his uncles, Norbert Myers and Ray Nightingale.
A Celebration of Matthew's Life will be conducted Saturday, October 16, 2021, at 11:00 a.m., by Rev. Mike Jones, at the Haskell & Morrison Funeral Home, 208 Ferry Street, Vevay, Indiana 47043.
Interment will be held at a later date in the Oak Hill Cemetery in Cincinnati, Ohio.
A Memorial Gathering will be held from 10:00 a.m. – 11:00 a.m., Saturday, October 16, 2021, at the Haskell & Morrison Funeral Home, 208 Ferry Street, Vevay, Indiana 47043.
In lieu of flowers, memorial contributions may be made to the Switzerland County Art Center or the Switzerland County Historical Museum. Cards are available at the funeral home or online at www.haskellandmorrison.com