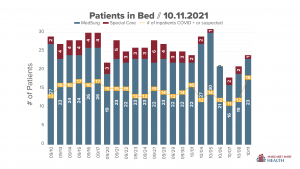 BATESVILLE, IN — Margaret Mary Health is reporting eight new COVID-19 related patient admissions from over the weekend. That brings the total number of hospitalized COVID-19 patients to 102 since August 1. Hospital officials say of those, 86 were unvaccinated while 16 were vaccinated (Please see chart for overall percent of vaccinated vs. unvaccinated).
There are currently 24 patients on the Medical/Surgery floor with one patient in the Special Care Unit. Eighteen patients are COVID-positive. Eighty-nine percent – or 16 out of 18 – of the current hospitalized COVID patients are not vaccinated (Please see charts for patient volumes).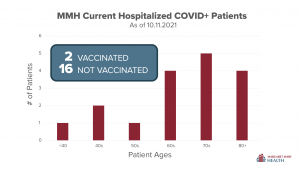 The chart from the Ripley County Health Department provides details on COVID-positive cases, breakthrough positives, and deaths in the county since early September. This past week 26 of the 148 COVID-positive results (18% of the total) were breakthrough cases where vaccinated individuals contracted the virus.
Margaret Mary Health is offering a COVID-19 Booster Clinic on Thursday (October 14) from 8 am until 2 pm at the Batesville Street Department located at 514 John Street. This clinic is for existing patients of Margaret Mary Health.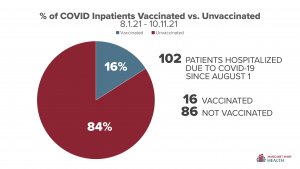 The single booster dose can only be administered at least six months after completion of the second dose and applies only to those who previously received the Pfizer vaccine.
Please bring your COVID-19 vaccination card with you.
No appointment is necessary at the clinic; however, it is suggested you be prepared for longer wait times because hospital staff will register patients when they arrive.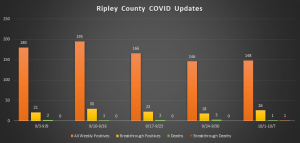 (Margaret Mary Health press release)