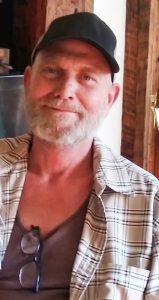 Mr. Kurt Von Strukamp, age 58, of Osgood, Indiana, formerly of Vevay, Indiana, entered this life on March 4, 1963 in Celina, Ohio. He was the loving son of the late, Lester Edward Strukamp and Virginia Ann (Jolly) Strukamp Spry. He was raised in Van Wert, Ohio where he attended high school. Kurt was united in marriage in Van Wert, Ohio to Carol Faye Dickson. Kurt was a welder for General Dynamics in Lima, Ohio from 1985-1996. He was later employed in 1996 for Thieman Stamping in New Bremen, Ohio, retiring after several years of service. Kurt enjoyed woodworking, welding, fishing, hunting, as well as, riding his motorcycle. You could always count on him for anything you needed help with. Above all, he loved spending time with his grandchildren. Kurt passed away on Sunday October 10, 2021, at the University of Cincinnati Hospital in Cincinnati, Ohio.
Kurt will be missed by his daughter, Lacy Christman and her husband, Daniel of Madison, IN; his step-son, Kyle Caldwell of Mansfield, OH; his grandchildren, Brenin, Danilyn, Allison, Tanner, Chloe, Kyler, Gage and Kali; his great-grandchildren, Camden, Emerson, Roman and Zayla; his sisters, Vicki Kennedy of Wittenberg, WI, Becky Strukamp of Des Moines, IA and Tanya Ann Haller of Decatur, IN and his several nieces and nephews.
He was preceded in death by his parents, Lester Edward Strukamp and Virginia Ann (Jolly) Strukamp Spry; his step-son, Chad Caldwell and his brother, Carl Lee Strukamp.
A Celebration of Kurt's Life and Memorial Motorcycle Ride will be held at a later date.
Memorial contributions may be made to the Charity of the Donor's Choice. Cards are available at the funeral home or online at www.haskellandmorrison.com