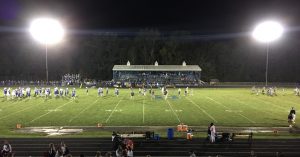 Quarterback Brady Morehead ran for three touchdowns while Bridger Bolos and Jacob Schatzle ripped off long TD runs as the Franklin County Wildcats rolled over the Batesville Bulldogs 34-7 on Senior Night Friday at the Dog Pound.
Bolos put the Cats on the board first just 39 seconds into the game when he ran 60 yards up the middle untouched into the end zone. The two-point conversion try was successful, and Franklin County led 8-0.
Morehead's TD run came with 2:04 to go in the opening stanza when he hit paydirt from 9-yards out. The two-point conversion attempt failed, but FC's advantage grew to 14-0.
Schatzle got into the scoring act on 3rd and 20 when he went around the left side and ran 52 yards into the land of six with 1:49 remaining. Another two-point conversion attempt was no good, but the Wildcats enjoyed a 20-0 lead at intermission.
Batesville, which won the game's opening coin flip but deferred, put together a solid drive to open the second half. However, the drive stalled, which was emblematic of the Bulldogs night on offense – moving the ball between the 30s but not cashing in.
Morehead's second TD came with 4:17 left in the third when he punched it in from 6-yards out. This time, the two-point try was good, and the Wildcats upped their lead to 28-0.
BHS avoided a running clock situation when quarterback Travis Lecher hit Luke Wilson in the middle of the end zone with a 3-yard strike and 4:03 left in the game. Braiden Foster added the extra point, making it a 28-7 game.
The final score of the night came with 14 seconds remaining. Morehead completed the TD hat trick when he muscled his way into the end zone from the two. The Cats final two-point conversion attempt failed, which made the final score Franklin County 34, Batesville 7.
We thank WRBI's Tom Snape for the edited report and photo.