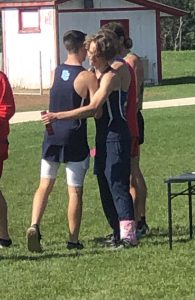 It was a great weather day Saturday for cross country sectionals throughout Indiana.  While many of our area teams ran at South Dearborn, Connersville also hosted some of our local programs.
To advance to a regional, a team had to finish in the top five. Also, any individual among the top 10 runners on non-qualifying teams also advanced.
The only teams of local interest to advance were the third place Rushville boys and the fourth place Rushville girls.
Other local teams who placed were the Franklin County boys (8th) and Connersville boys (10th).  The Lady Wildcats and Lady Spartans did not field a full team.
The Northeastern boys and Centerville girls won the team titles.
Three Franklin County Wildcats qualified for regional: Esther George, Ben Maze and Adam Grant.
For complete results of the Connersville Cross Country Sectional please click on these links from Stuart Road Racing for the girls and the boys.
Girls individual champion and local athletes who made Girls All-Sectional Top 20 plus local individual regional qualifiers from non advancing teams (indicated by "Q"):
1 Ella Garvin, 21:22.0 New Castle
14 Olivia Wehr, 23:25.6 Rushville
27Q Esther George, 24:55.5 Franklin County
28Q Abigail Struewing, 25:19.4 Connersville
Boys individual champion and local athletes who made Boys All-Sectional Top 20 plus local individual regional qualifiers from non advancing teams (indicated by "Q"):
1 Mylan Nocton, 17:21.7 Centerville
5 Kyle Stanley, 17:58.0 Rushville
7Q 7 Owen Baker, 18:18.5 Connersville
15Q Ben Maze, 19:00.1 Franklin County
16 Charles Sterrett, 19:00.2 Rushville
20 Hunter Parmerlee, 19:11.8 Rushville
29Q Adam Grant, 19:23.1 Franklin County
33Q Austin Wenta, 19:34.7 Connersville
Unedited recaps from area coaches…
Franklin County's Stacey Nobbe:  The boys cross country team competed at the sectional meet at Connersville on Saturday, October 9th. Seniors, Ben Maze and Adam Grant were the only regional qualifiers. Ben finished in 15th place, with a time of 19 minutes. He was the 5th individual qualifier. Adam Grant finished in 28th place, with a time of 19:23. He earned the 7th individual spot to qualify. Ben and Adam will compete in the Rushville Regionals on Saturday, October 16th.
Freshman, Esther George, qualified for Regionals at the cross country sectionals, which took place in Connersville on Saturday, October 9th. She finished in 27th place with a time of 24:55. She earned the 6th, out of 10 spots for individuals to continue on. She willcompete at Rushville on Saturday, October 16th.
Rushville's Amy Tush: Our boys and girls Cross Country teams travelled to Connersville for the 2nd time this season on Saturday morning to compete at the 2021 Sectional Championship meet. This was a pinnacle meet for us as we have been running for it all year. The Lions were fresh and motivated to capture their 4th consecutive Sectional Title. Two teams stayed in the way of that goal as the Lions came off the course in 3rd place.
Nothing to be disappointed about as each Lion runner made the effort of a Champion, and that's all any coach can ask for. I am super proud of the way they attacked such a huge expectation with a new, young team. They had the courage to run out of their comfort zone. The Lions are still alive in the postseason as the team still earned a Regional race next weekend.
The Lions were again led by Senior Kyle Stanley (5), sophomore Charlie Sterrett (16), freshman Hunter Parmerlee (20), junior Ryan Schnidler (26), and Wyatt Jacobs(32. Other varsity finishers were Isaac Krodel (35), and Trent Dyer (39).
The girls cross country team was in full capacity with the return of senior runner Savannah Westphal. The girls also had a huge task ahead of them at the Sectional meet, but that didn't scare them. They also competed like Champions. The Lady Lions claimed 4th place, as a team, earning them a Regional race as well.
The Lady Lions were led by Junior Olivia Wehr. She has stepped up these past few races without her teammate to push her. She has gained confidence and learned how to race on her own and be successful. Wehr placed 14th overall. Following close behind was Savannah Westphal (23), Ashley Whitham (24), Mia Norvell (31), Maddy Hankins (32), Sophia Kemple (33), and Yanitza Norvell (41).
Our next competition will be the Regional Championships, at home, this Saturday morning, October 16th, at 10:30 and 11:15 at BRMS. We hope to see a big crowd cheering on the hometown teams to Semi-State.
Boys 5k Results
Kyle Stanley – 5th place- 17:58
Charlie Sterrett – 16th place – 19:00
Hunter Parmerlee- 20th place – 19:11
Ryan Schnidler- 26th place -19:19
Wyatt Jacobs 32nd place – 19:34
Isaac Krodel 35 th place – 19:53
Trenton Dyer 38th place – 20:14
Girls 5k Results
Olivia Wehr – 14th place – 23:25
Savannah Westphal 23rd place – 24:24
Ashley Whitham- 24th place 24:27
Mia Norvell – 31st place – 25:34
Maddy Hankins – 32nd place – 25:46
Sofia Kemple – 33rd place -25:46
Yanitza Norvell- 41st place – 27:23
Connersville's Glenn Arndt: On Saturday, the boys cross country team hosted area teams in the IHSAA Sectional meet. Owen Baker was the top Spartan to cross the line, using a furious kick to finish 7th overall. Austin Wenta ran a strong race to put himself in contention to qualify for the regional meet, placing 33rd. Jeremy Jergensen was next in 52nd place, finishing off a great four year varsity career. Cody Brown and Carson Giesting battled through a lot of adversity to place 63rd and 65 respectively.
Owen and Austin will compete in the Regional meet on Saturday in Rushville at 10:30. Congratulations and good luck!!
The girls cross country team hosted the IHSAA Sectional meet on Saturday. Abigail Struewing showed an incredible amount of toughness, battling through an injury, to advance to the regional meet for the second straight year. Anna Freyche closed out her first cross country season, running a course PR, finishing in 44th place.
Abby will run in the Rushville regional meet on Saturday at 11:15. Good luck Abby!
We thank coaches Tush, Nobbe and Arndt along with Stuart Road Racing for the information. We thank Franklin County Athletics for the photo.