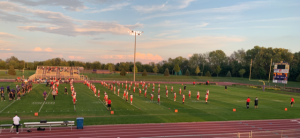 The East Central Trojans picked up their seventh football win of the season Friday with a 41-7 victory over host Guerin Catholic.
The Trojans scored on their first two drives of the game, a 14-yard connection from Cole Burton to Ryan Brotherton and a 12-yard Sam Ringer run out of the Wildcat formation. After a mishap with the snap on the first extra point try, Sophie Browndyke connected on the second to put the Trojans on top by a score of 13-0.
Following a beautiful 43-yard completion from Burton to Brotherton which set the Trojans up first and goal from the 2-yard line, Trae Ohmer scampered into the end zone to give East Central a 20-0 halftime advantage.
Guerin Catholic opened the scoring in the second half with a 65-yard drive capped off on a 10-yard completion from Ryan Zimmerman to Ryan Glenn. The extra point from Evan Guenthner cut the Trojan lead to 20-7.
East Central answered immediately with a 66-yard drive which ended with a 15-yard touchdown pass from Burton to Brotherton. The Trojans got two more scores on a 25-yard run from Brotherton and a 3-yard plunge by Ohmer. Browndyke was perfect on extra point attempts in the second half to give EC their 41 points.
Cooper Hoog intercepted a Guerin Catholic pass on the Golden Eagles last offensive possession. East Central ran out the clock to push their record to 7-1 with one regular season game remaining.
We thank WRBI's Rob Moorhead for the edited report and photo.