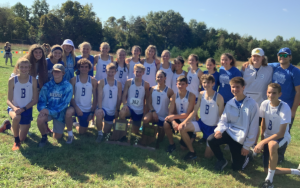 Area cross country teams enjoyed a great Saturday morning to run the sectional leg of the postseason.  To advance to a regional, a team had to finish in the top five. Also, any individual among the top 10 runners on non-qualifying teams also advanced.
Most of our local teams competed at Moores Hill hosted by South Dearborn where four out of the top five places were identical for both genders.
Batesville's boys and girls won both titles and the two East Central teams were second. Greensburg's squads took third while the two South Decatur's programs placed fifth.  The fourth place spots were taken by the South Ripley girls and the Lawrenceburg boys.
Individual champions were East Central's Emily Campbell who finished as the girls MVP in 19:32. She was 22 seconds ahead of South Ripley's Lanie Nicholson.  Batesville's Benjamin Moster won the boys title in 16:32.  He was 33 seconds in front of teammate Eli Loichinger.
For complete results of the South Dearborn Cross Country sectional please click on these links from Stuart Road Racing for the girls and the boys.
Girls team results (top 5 qualify for regional): Batesville 1st/25, East Central 2nd/47, Greensburg 3rd/90, South Ripley 4th/95, South Decatur 5th/163, Jac-Cen-Del 6th/166, North Decatur 7th/181, South Dearborn 8th/187. NTS: Lawrenceburg, Milan and Oldenburg.
Boys team results (top 5 qualify for regional): Batesville 1st/25, East Central 2nd/54, Greensburg 3rd/88, Lawrenceburg 4th/148, South Decatur 5th/151, Rising Sun 6th/156, Jac-Cen-Del 7th/166, South Ripley 8th/184, North Decatur 9th/237, South Dearborn 10th/292. NTS Milan and Oldenburg.
Girls All-Sectional Top 20 plus individual regional qualifiers from non advancing teams (indicated by "Q"):
1 Rachel Campbell, 19:32.6 East Central
2 Lanie Nicholson, 19:54.6 South Ripley
3 Lily Pinckley, 20:13.2 Batesville
4 Kaylynn Bedel, 20:21.5 Batesville
5 Ava Hanson, 20:31.8 Batesville
6 Maria Lopez, 20:41.3 Batesville
7 Megan Allgeier, 20:46.3 Batesville
8 Emily Mangels, 21:00.2 Greensburg
9 Adeline Brewer, 21:18.8 East Central
10 Emily Klem, 21:26.1 East Central
11 Kendall Pflum, 21:28.6 East Central
12 Tiffani Gramman, 21:40.3 Greensburg
13 Emily Campbell, 21:44.4 South Ripley
14 Sophie Myers, 21:47.4 Batesville
15 Hannah Crowell, 21:49.3 Greensburg
16 Faith Henderson, 21:50.3 East Central
17 Jocelyn Inderhees, 21:50.6 East Central
18 Jorjia Ferguson, 21:57.0 East Central
19 Madison Rahschulte, 21:59.1 Batesville
20Q Jenna Walton, 22:31.7 North Decatur
22Q Cloey Simon, 22:37.7 Jac-Cen-Del
24Q Grayce Klayer, 22:55.4 South Dearborn
25Q Kayla Simon, 22:57.9 Jac-Cen-Del
26Q Lucy Lillis, 23:01.4 Milan
29Q Virginia Minch, 23:30.0 Jac-Cen-Del
30Q Gracie Osting, 23:53.2 North Decatur
31Q Renee Lillis, 24:00.4 Milan
32Q Lauren Agner, 24:03.7 Lawrenceburg
33Q Cideny Clyde, 24:11.4 Lawrenceburg
Boys All-Sectional Top 20 plus individual regional qualifiers from non advancing teams (indicated by "Q"):
1 Benjamin Moster, 16:32.6 Batesville
2 Ean Loichinger, 17:05.2 Batesville
3 Cole Benegas, 17:34.9 East Central
4Q Benjamin Riehle, 17:39.0 Milan
5 Daren Smith, 17:39.2 Batesville
6 Jacob Hawkins, 17:39.4 Greensburg
7 Michael Schwebach, 17:43.0 East Central
8 Jacob Chapman, 17:45.4 Batesville
9Q Joshua Pohle, 17:55.1 Jac-Cen-Del
10 Grant Hensley, 17:55.8 Lawrenceburg
11Q Peyton Merica, 17:58.8 Rising Sun
12 Kyler Daulton, 18:08.6 Batesville
13Q Ayden Potts, 18:11.1 Milan
14 Logan Hicks, 18:12.3 East Central
15 Trevor Newby, 18:13.3 South Decatur
16 Gabriel Hensley, 18:13.8 Lawrenceburg
17 Sawyer Sanders, 18:27.0 Greensburg
18 Bradyn Hatton, 18:29.5 East Central
19Q Carter Walsman, 18:32.0 Oldenburg Academy
20 Zen Ivey, 18:39.9 East Central
23Q Ethan Markland, 18:53.4 Rising Sun
31Q Adam Maloney, 19:23.3 Jac-Cen-Del
32Q Casey Fletcher, 19:31.6 Rising Sun
34Q Logan Bradley, 19:39.2 South Ripley
36Q 33 Cameron Reatherford, 19:50.4 Jac-Cen-Del
Unedited recaps from area coaches follow.
Batesville's Lisa Gausman:  It was an early start for the High School Cross Country teams as the boys stepped up to the line to race their 5K at 9:30am to fight for a spot on the Sectional team (top 20 individuals) and to try and help their team earn a spot to move on to Regional Competition next week (top 5 teams). Batesville came ready to race.
The boys led the way with Batesville finishing in a 1-2 punch, well ahead of the rest of the crowd. Senior Benjamin Moster was the individual Sectional Champion with a time of 16:32, with teammate and senior Ean Loichinger to follow as Sectional Runner up with a time of 17:01. Daren Smith was the next Batesville to cross the line in 5th place and he was followed closely by Jake Chapman in 8th. Batesville had one other boy runner to make the All Sectional team and that was Kyler Daulton who placed 12th. Eli Loichinger just missed it as he finished 21st and Will Nuhring was 26th.
With the top 5 scoring, the Bulldogs had a low total score of 25 points beating East Central by 29 points at 54 points. The 3 other teams to move on to Regionals are: Greensburg (88pts), Lawrenceburg (148pts) and South Decatur (151pts). Congratulations everyone!
Then it was the girls turn and they did not disappoint. They raced very well with a really nice pack and also had ALL 7 of the runners make the All Sectional team. Leading the way for the Bulldogs was Senior Lily Pinckley coming through in 3rd place at 20:13. She was followed closely by 4 more teammates taking 4th, 5th, 6th and 7th spots. They were Kaylynn Bedel(20:21), Ava Hanson(20:32), Maria Lopez(20:41) and Megan Allgeier(20:46). Sophie Myers took 14th place and Madison Rahschulte snagged one of the last spots in 19th place.
The girls also had a low score of 25 points beating East Central by 22 points at 47. The other 3 teams to move on to Regionals are: Greensburg (90pts), South Ripley (95pts) and South Decatur (163pts). Congratulations to all!
The Dogs will have a week of training to prepare for Regional competition which is next Saturday at Franklin Community High School! Good Luck Dogs!
Greensburg's Troy Davis: Saturday morning the Greensburg Cross-Country teams traveled to Moores Hill Elementary for the IHSAA Sectional 23 hosted by South Dearborn. The Batesville Bulldogs took three of the top 4 spots and claimed the boys' team title. Batesville's Benjamin Moster won his second consecutive sectional race in a time of 16:33. The Pirates placed 3rd out of the 12 teams competing and qualified for the Franklin Regional next weekend. This is the seventh year in a row that Greensburg has qualified for the regional as a team.
Jake Hawkins was the top finishers for the Pirates. Hawkins earned all-sectional honors for the second year in a row. He was 6th place in 17:39. Sawyer Sanders also finished in the top 20 and received all-sectional recognition for the fourth consecutive season. Sanders finished 17th overall in 18:27. Sophomore Cameron Schwartz had his best race of the season. He broke the 19:00 barrier for the first time in 2021 running 18:55 for 24th place.
Nate Murray was 25th in 19:07. Freshman Paxton Harris continued his steady improvement throughout the 2021 season. He lowered his personal best to 19:11 as he crossed the finish line in 28th. TJ Gorman also ran a personal record Saturday morning at sectional. Gorman earned 29th in 19:12. Junior Bryant Merritt placed 42nd in 20:18. The boys improved their record on the season to 34-23.
In the girls' competition, the Batesville Bulldogs defended their sectional title with five runners in the top 10. East Central's Rachel Campbell was the individual champion in 19:33. The Lady Pirates finished 3rd overall in the team standings and improved their season record to 43-14. Greensburg qualified for the regional round for the 10th season in a row. Senior Emily Mangels was the top runner for Greensburg. Mangels placed 8th overall in 21:00 earning all-sectional recognition for the 4th time in her career.
Tiffani Gramman placed 12th in the race in 21:40 and received all-sectional honors. Sophomore Hannah Crowell used a strong finish to lower her personal best. Crowell broke the 22:00 mark for the first time. She was 15th place overall in 21:49. That performance also earned Crowell all-sectional. Tori Gauck came in 21st overall in a time of 22:35. Sophomore Malana Kramer was 39th in 24:56 while teammate Ally Foster ran 25:10 for 42nd place. The Pirates will race in the Franklin Regional next Saturday morning. The boys' race is scheduled to begin at 10:30 am.
Jac-Cen-Del's David Bradshaw: The Varsity Cross Country teams ran in the South Dearborn hosted sectional on Saturday. The sectional is comprised of twelve schools participating. The girls' team was sixth and the boys' team was seventh.
Individually six runners qualified for the Franklin Regional next Saturday. Boy runners advancing were: Josh Pohle, Adam Maloney and Kameron Reatherford. Girl runners advancing were: Cloey Simon, Kayla Simon
and Virginia Minch. Congrats to all the runners on a great season!
We thank coaches Gausman, Davis and Bradshaw and Stuart Road Racing for the information.  We thank coach Gausman for the photo.