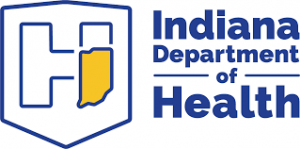 INDIANAPOLIS, IN — Indiana Department of Health officials have announced that more than 35,000 third doses of Pfizer's COVID-19 vaccine have been administered to Hoosiers age 18 and older since August when the CDC and FDA approved a third dose for immunocompromised individuals. This total also includes booster doses that became available last week.
In addition, State Health Commissioner Kris Box, M.D., FACOG, noted that data indicate that the state may be starting to emerge from the COVID-19 surge fueled by the Delta variant.
"We don't expect these declines to be linear and may see cases bounce back up and then fall again," Dr. Box cautioned during a news conference at the Indianapolis Motor Speedway, where the state is offering free COVID-19 testing and vaccine, as well as influenza vaccines. "That is the nature of this disease. However, seeing a decline in cases for three weeks is definitely a reason for cautious optimism."
The Pfizer boosters have been authorized for individuals age 65 and older, those ages 50 to 64 who have underlying conditions, individuals ages 18 to 49 with underlying conditions based on their individual risk and benefit, and those age 18 and older who have a risk of exposure due to an occupational or institutional setting.
Chief Medical Officer Dr. Lindsay Weaver, M.D., FACEP, said the boosters can provide additional protection for individuals who are at least six months beyond the completion of their Pfizer vaccine series, but she stressed that it is most important for Hoosiers who have not yet gotten vaccinated to do so. Indiana is currently administering approximately 10,000 doses of vaccine each day.
"If we continue at that pace, it could be well over another year before we achieve sufficient levels of immunizations to provide robust protection for the population at large," Weaver said. "None of us want that."
To find a COVID-19 vaccination location, go to www.ourshot.in.gov. To find testing, go to www.coronavirus.in.gov.
Please click here for an updated county advisory map, hospitalizations, and other information.
(Indiana Department of Health press release)