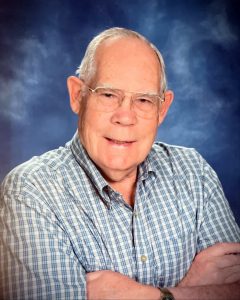 Mr. Virgil Copeland, Jr., age 86, of Vevay, Indiana, entered this life on January 2, 1935 in Sullivan County, Indiana. He was one of fourteen children born to the parents of, Virgil Loren and Goldie M. (Dean) Copeland. He was raised in Hymera, Indiana where he was a 1953 graduate of Hymera High School. Virgil was united in marriage to Betty Jo Ward on January 12, 1957 in Hymera, Indiana. This happy union was blessed with a son, Allen Wayne and a daughter, Elizabeth Ann. Virgil and Betty shared over 39 years of marriage together until she passed away on June 4, 1996. He was later united in marriage on January 12, 1997 in Switzerland County, Indiana to Sandra Stewart Maxwell. Virgil and Sandra shared over 23 years of marriage together until she passed away on September 3, 2020. Virgil was employed for General Motors Manufacturing, retiring at the age of 56. He built his dream home in Switzerland County where he could enjoy wildlife, hunt and fish. Virgil resided in Hymera, Indiana for 23 years, Anderson, Indiana for 33 years and for the past 30 years in Vevay, Indiana. He was a member of the Hope Baptist Church in Dillsboro, Indiana. Virgil enjoyed hunting, fishing, music, singing at "Jam" Sessions, as well as, old cars and attending car shows. Virgil passed away at 9:53 p.m., Monday, September 20, 2021, at the King's Daughters' Hospital in Madison, Indiana.
Virgil will be missed by her daughter, Elizabeth Ann "Liz" Marin of La Verne, CA; his grandchildren, Michael (Jacquie) Copeland, Tye Joseph (Destiny) Copeland, Emily (Todd) Marshburn, Amanda (Aaron) Cruise, Allison (Jennifer) Marin and Joshua Marin; his great-grandchildren, Cameron, Mikayla, Tycen, Ethen, Jocelynn, Abigail and Dylan; his sister, Patricia Orr and her husband, Robert of Rogersville, TN and his several nieces and nephews.
He was preceded in death by his parents, Virgil Loren and Goldie M. (Dean) Copeland; his 1st wife, Betty Jo (Ward) Copeland; his 2nd wife, Sandra Stewart Maxwell Copeland; his son, Allen Wayne Copeland; his sisters, Marie Self, Viola Riggins, Lucille Johnson, Betty Deboard, Frances Coleman and Mary Betz and his brothers, George, Leonard, Frank, Jerry, James and Robert Copeland.
A Celebration of Virgil's Life will be held at 11:00 a.m., Saturday, October 9, 2021, Hope Baptist Church, 15593 US 50, Dillsboro, Indiana 47018.
Memorial contributions may be made to the Hope Baptist Church in Dillsboro, Indiana. Cards are available at the funeral home or online at www.haskellandmorrison.com