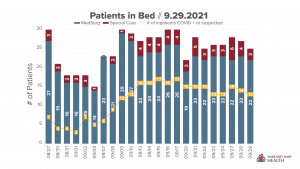 BATESVILLE, IN — Margaret Mary Health (MMH) has provided the community with an update on the area's COVID -19 situation.
Although the Ripley County and Franklin County statuses remain unchanged this week, the area did see a decrease in the positivity rate for both counties. Ripley County's 7-day positivity rate is now at 10.27% ("Orange" status) and Franklin County's 7-day positivity rate stands at 20.08% ("Red" status).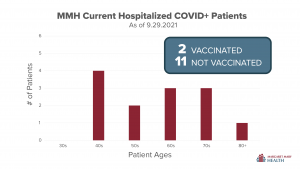 The hospital's Emergency Department continues to see above-average patient volumes, resulting in longer patient wait times to be seen and treated. Those who are seeking COVID-19 testing and are asymptomatic (whether it is needed to attend an event, return to school/work, etc.) to find another testing site so hospital providers and staff can focus on treating ill patients. Margaret Mary Health also reminds patients to not delay care. Anyone with chest pain, stroke symptoms, intense and unusual pain, should seek medical attention. The hospital says they are here to help and delaying care can have severe consequences.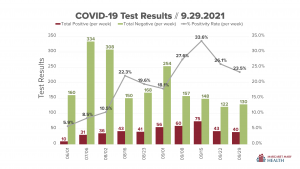 The hospital currently has 25 patients on the Med/Surg floor, with three of those patients in the Special Care Unit. Thirteen patients are COVID-positive with two of those on ventilators. The average age of MMH's hospitalized COVID-positive patients since the beginning of August continues to trend around 60, although they are seeing more hospitalized patients in their 40s in the last week. The total percent of hospitalized COVID-positive patients since August 1 who were not vaccinated is 86%. (See charts for more details)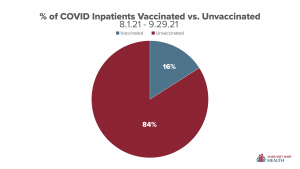 Testing for COVID-19 has stayed steady from the previous week, with 40 patients who tested positive and a current positivity rate of 23.5% (See chart for more details on testing results). MMH can provide testing for symptomatic patients at the Main Campus Lab with an order from a primary care provider.