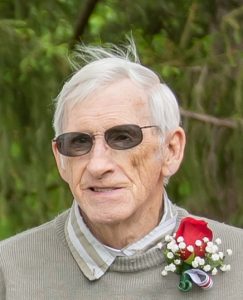 Carl Richard "Dick" Rigby, 81, Greensburg, passed away on Wednesday, September 29, 2021 at his residence.
Born, December 17, 1939 in Greensburg, he was the son of Silas F. and Dorothea M. (Haley) Rigby.
He was educated in the Greensburg schools and at the age of 70 years, he earned his high school GED.
Dick learned how to make and match colors along with wood graining from his father, who was a painter.  Dick took up the trade and was hired by Ed Scheidler.  He oversaw many jobs and learned to hang many types of wallpapers and fabrics.  He worked for 32 years at Scheidler's.  When Ed Scheidler died Dick went into business himself and for 22 years, he worked with Maurice Hoeing.  He also worked for two years at Valeo as a security officer with the Columbus Security Co.
He enjoyed roller-skating, hunting, and fishing.  He loved time with his grandkids. He played slow and fast pitch softball and bowled for many years.
He was a veteran of the US Army.
He leaves behind four sons, Brian, Jeff, Carl, and Craig (Tessa) Rigby; two daughters, Carla Linville, Carol (Joe) Wright; daughter-in-law, Sharon (Keith) Rigby; 19 grandchildren, 4 great granddaughters, and 7 great grandsons; two sisters, Carolyn Stringer, Wanda Ralston.
Besides his parents, he was preceded in death by one son, Richard "Keith" Rigby; son-in-law, Rick Linville; four brothers, Frank, Kenny, Silas Jr., John Paul; six sisters, Edna, Betty, May Louise, Mary, Marjorie, Joanna; five brothers-in-law, Merel Carel, Mervin Carel, Robert Moore, John Stringer, Darrel Ralston.
Visitation will be held on Wednesday, October 6, 2021 from 11:00 to 1:00 p.m. at the Porter-Oliger-Pearson Funeral Home in Greensburg.  Funeral Services will follow at 1:00 p.m. officiated by Rev. Terry Canfield.  Burial will be held in the South Park Cemetery in Greensburg. Online condolences can be made to the family at www.popfuneralhome.com