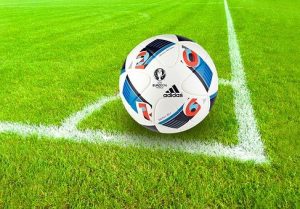 Senior Nights are always special but even more so when final year players play a pivitol role in a victory.  That was the case Tuesday when Oldenburg Boys Soccer beat Centerville 2-1.
Down 1-0 at halftime thanks to a "bad hop" goal by Centerville at 20:05, both OA goals were scored in the second half by senior Nick Folop.  They were assisted by seniors Eric Cornelius and Eli Wagner.
Twister assistant coach Mike Wilhelm said Folop scored at 13:46 in the second half on a header over the keeper and was assisted by Waggoner's pass into the 18.  Folop scored again with only 3:43 to go with an assist from Cornelius on a restart.  The ball was put into the back of the net near the 6-yard box. The restart was about 25-28 yards out and Cornelius chipped the ball into the 18 where Folop found it for the game winner.
"What a game it was," said OA head coach Ken Getz.  "It seemed like we were controlling the game, but we were behind on the scoreboard. Centerville took advantage of a free kick that took a funny hop just out of our keeper's reach in the first half. We came out the second half and played with more energy. I switched our formation to try and give us more scoring chances. It helped and we took advantage."
Getz added senior Logan Sydzyik had one of his best games as a Twister as he made a lot of nice passes for scoring opportunities. Folop was busy as he was involved in all three scores on the night.
"Defensively, we had another good night," Getz stated.  "We were one bad bounce from a clean slate.  If not for the stellar play from Centerville's keeper, we may have had a easier night. He made some nice stops.:
"Here are a couple examples of why I coach," added Getz.  "A Centerville player got tangled up with Aaron Schneider in the first half and fell on him. Clean play, no foul.  The opposing player helped Aaron up and asked if he was alright. Late in second half, Eric Cornelius was out on a break away with only the keeper to beat. It was a bang bang play in the box as Eric and their keeper met at the same time. Eric got the worst of it as his foot got stepped on. A Centerville player stopped by Eric asking if he needed help and if he was alright. Two classy moves by two boys on the other team. Sportsmanship something I preach all of the time. We need more of this not only in sports but in life."
Stats reported by coach Wilhelm:
The Twisters had 21 shots with 9 on goal, 9 fouls, 4 corners and 1 handball. Keepers Nick Folop in the first half had 2 saves and Isaiah Waggoner had 1 save in the second half.
The Bulldogs had 10 shots with 4 on goal, 7 fouls, 5 corners and their keeper had 7 saves.
We thank coaches Getz and Wilhelm for the information.