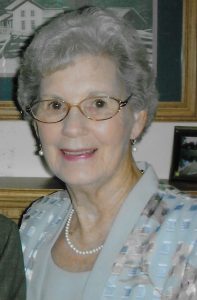 Lois E. (Waldon) Fairfield, 92, of Aurora, IN, passed away Tuesday, September 28, 2021, in Lawrenceburg, Indiana.
She was born August 9, 1929, in Dillsboro, IN, daughter of the late Perry Waldon and Anna (York) Waldon.
Lois was a member of Mt Tabor United Methodist Church, Aurora, IN. She was a loving wife, homemaker, and a great cook. She was especially known for her pumpkin pies. She enjoyed shopping and visits to the Smokey Mountains. Her favorite pastime was spending time with her grandchildren.
Lois is survived by sons, Clyde S. Fairfield Jr. of Jacksonville, FL, Richard "Rick" (Mary) Fairfield of Aurora, IN, Timothy W. (Beth) Fairfield of Aurora, IN. Grandchildren Heather (Fairfield) Carfaro, Jacksonville, FL; Sean Fairfield, Houston, TX; Dustin (Alisha) Fairfield, Jacksonville, FL; Kris (Erin) Fairfield; Kara (Fairfield) Moore, Aurora; Nicholas (Tabitha) Fairfield, Madison, WI; Rachel Fairfield, Jacob Fairfield, and Samuel Fairfield, Aurora
She was preceded in death by parents, Perry and Anna (York) Waldon, husband, Clyde S. Fairfield; Son, Randy (late, Sandy) Fairfield; siblings, Louise Crostwaite, William Melvin Waldon, Denton Waldon, Kathryn (Waldon) Mix, Perry Waldon, Jr. and Ellen Ann (Waldon) Snelling.
Friends will be received Monday, October 4, 2021, 12:00 pm – 1:00 pm at the Rullman Hunger Funeral Home, 219 Mechanic Street, Aurora,IN.
Services will be held at the Funeral Home, immediately following visitation at 1:00 pm with Pastor Deb Beason officiating.
Interment will follow in the River View Cemetery, Aurora, Indiana.
Contributions may be made to the Mt. Tabor United Methodist Church. If unable to attend services, please call the funeral home office at (812) 926-1450 and we will notify the family of your donation with a card.
Visit: www.rullmans.com