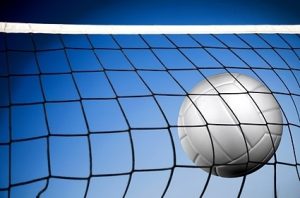 Greensburg didn't take its best to Connersville Monday and lost the EIAC volleyball pairing to the Spartans in five sets.  Game scores favoring CHS were: 25-18, 22-25, 25-23, 16-25 and 18-16.
"We simply got out played based upon desire, hustle, and effort," said Greensburg coach June Rigney.  "Currently we are not doing little things that make us better, and good teams capitalize on our lapses. As a team, we had too many errors.  Until we do what's necessary to fix those, we are going to get the same result night after night.  We need to get better to finish the last two weeks on a positive note. We are now 13-4 and 0-2 in the conference."
Coach Rigney also reported some stat highlights for the Pirates.
"Josie Nobbe continues to make her presence known all over the court leading us in kills with 25 along with the highest hitting percentage on our team," noted Rigney. "At the service line, she was 20-20 with 2 aces. Also busy at the net was Ella Chapman with 20 kills. Carlee Adams had a very strong  night playing with an injury and just doing little things that enabled us to stay in points. However, we are a tall team and should be very effective blocking. Right now, that's a struggle for us. Abigail Hoeing had 22 digs in the back court, followed by Nobbe with 20. Jenna Foster led us in the setting category with 27 assists."
Connersville reported stats from coach Stephanie Smith:
Brynnah Ellis- 52 assists, 14 digs
Erika Smith- 1 ace, 30 kills, 23 digs
Tori Hanson- 1 ace, 5 kills, 18 digs
Hope Kelley- 9 kills, 6 digs
Katie Fisher- 13 digs
Rayleigh Bresher- 1 kill, 3 assists, 15 digs
Hailey Sembach- 12 kills, 1 block, 7 digs
Kerstin Ellis- 1 ace, 1 kill, 6 digs
Connersville also won the JV match 2-1 with scores of 25-24, 19-25 and 15-10.
Connersville JV reported stats from coach Smith:
Bre Brock- 1 ace, 3 digs, 21 assists
McKenna Lucas- 2 blocks, 8 digs, 10 kills
Addie Phillips- 8 digs, 6 kills
Lily Cowan- 5 digs, 4 kills
Grace Kelly- 8 digs, 6 kills
Dust Davis- 7 digs
Cadence Sizemore- 3 digs
Madison Jordan- 2 assists
We thank coaches Rigney and Smith for the information.