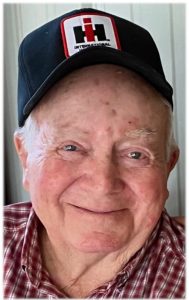 Donald "Don" L. Schornick, 87, of Milan passed away Tuesday, September 28, 2021 at his residence with his loving family by his side. Don was born on Saturday, August 25, 1934 in Batesville, Indiana, the son of Roy and Helen (Kittle) Schornick. He married the love of his life, Thelma (Dierckman) Schornick, on August 6, 1955. Don was a member of the St. Charles Catholic Church in Milan. He drove a truck for Owens Corning in Brookville and was a lifetime farmer. He enjoyed being outdoors whether he was farming, hunting, going to tractor shows, or dirt track racing. His greatest passion in life was spending time with his family and giving hayrides at the farm.
Don will be greatly missed by his surviving family including his wife Thelma of 66 years from Milan; his loving children: Gary (Robin) Schornick of Batesville, Dan (Joan) Schornick of Batesville, Robert Schornick of Milan, Diane (Rob) Harmeyer of Batesville, Sharon (Steve) Meyer of Hamburg, Linda (Dale) Grunkemeyer of Batesville, Larry (Joyce) Schornick of Sunman, Allen Schornick of Milan, Kathy Bockstahler of Milan, and Donna Stanley of Milan; sister Janice Rohlfing of Shelbyville; twenty-four grandchildren; and thirty-one great-grandchildren.
Don was preceded in death by his parents, brother-in-law Ray Rohlfing, grandson Chad Meyer, and great-granddaughter Katilyn Eaglin.
Family and friends may gather to share and remember Don from 4 – 7 PM Friday, October 1, 2021 at Laws-Carr-Moore Funeral Home in Milan. A Mass of Christian Burial will be held at 10:30 AM Saturday, October 2, 2021 at St. Charles Catholic Church, 213 Ripley Street, Milan, IN 47031 with Father Shaun Whittington officiating. Burial will follow in St. Pius Cemetery North of Milan. Memorials may be given in honor of Don to Margaret Mary Hospice. Laws-Carr-Moore Funeral Home has been entrusted with arrangements, 707 S. Main Street, Box 243, Milan, IN 47031, (812) 654-2141. Please visit our website at www.lawscarrmoore.com to share your condolences and memories of Don.