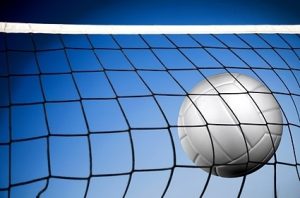 Batesville Middle School hosted Greendale in Tuesday's semifinals of the SEI Volleyball Tournament.  The Bulldog 7th grade beat the Bengals in two sets to advance to the finals, but the 8th grade Bulldogs lost in three.
Coach Angie Ehrman's 7th grade Batesville bunch beat GMS 25-15, 25-8. Now 13-0, Batesville will play in Thursday's finals against South Ripley at East Central.
Ehrman reported the team's top servers were Ella Weber and Caitlyn Fox with 6 points each. Claire Niese, Alexis Gallagher, Leigh Hertel and Brooke Wilhelm all had 4 service points. Wilhelm was perfect in hitting on 8 attacks and earning 6 kills. Hertel had 3 kills while Ellie Westerfeld and Ella King each chipped in 1. And Sydney Campbell added a block.
In the 8th grade game, Greendale opened with 25-10 victory in set one.  Batesville bounced back to take set two, 25-21, but the Bengals won the match taking set three, 15-12.
BMS coach Shelly Prickel said, "We fell in heartbreaking fashion, and although the team is unable to defend last season's title, the Lady Dogs didn't go down without a fight. We are very proud of this team which finished the season at 11-2. We'd like to wish our 7th grade team good luck the championship!"
Prickel listed her team's top performers were Jade Martin from the service line connecting on 14 of 15 serves for scoring 11 points including 4 aces. Addison Luers chipped in 10 service points and worked hard setting up the front line attack. Grace Walter was dominant at the net with 13 kills while going 25 for 26 in spiking. Reesa Zimmerman added 4 kills. The team had solid contributions all season long from Ava Walsman, Ava Hilbert, Anya Richey, Layney Laker, Briley Broshears, Macy Young, Addi Froehling and Ashlee Sparks.
We thank coaches Ehrman and Prickel for the information.