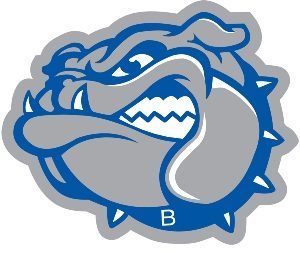 Batesville hosted its 20th annual Cross Country Invitational Tuesday.
In the big school boys division, the host Bulldogs won the team title by 19 points over East Central. Benjamin Moster of BHS was the individual winner in 16:29.
The Lady Bulldogs also won the girls big school meet by just 3 points over the Trojans. EC's Rachel Campbell took individual top honors in 20:04.
Looking at the small school divisions, South Ripley won the boys competition by 12 over Jac-Cen-Del. The Eagles Josh Pohle finished first in 18:39.
The Lady Raiders also won the girls meet by 18 over JCD. Ripley's Lanie Nicholson crossed first individually in 20:14.
Click on each link in the team results for for complete information for that race. Links courtesy of Stuart Road Racing.
Boys Large School team results: Batesville 1st/30, East Central 2nd/59, Seymour 3rd/64, Rushville 4th/87, Franklin County 5th/132 (by tiebreaker), Lawrenceburg 6th/132
Girls Large School team results: Batesville 1st/27, East Central 2nd/30, Rushville 3rd/82, Seymour 4th/112…Franklin County/Lawrenceburg/Madison NTS
Boys Small School team results: South Ripley 1st/24, Jac-Cen-Del 2nd/36, North Decatur 3rd/63…Milan/Oldenburg NTS
Girls Small School team results: South Ripley 1st/23, Jac-Cen-Del 2nd/41, North Decatur 3rd/61…Milan/Oldenburg NTS
Boys Large School individual top 10:
1 Benjamin Moster, 16:29.3 Batesville
2 Ean Loichinger, 16:39.9 Batesville
3 Jude Bane, 16:53.3 Seymour
4 Michael Proffer, 17:42.6 Seymour
5 Kyle Stanley, 17:43.0 Rushville
6 Michael Schwebach, 17:56.6 East Central
7 Cole Benegas, 17:57.7 East Central
8 Daren Smith, 18:00.5 Batesville
9 Kyler Daulton, 18:13.9 Batesville
10 Jake Chapman, 18:16.9 Batesville
Girls Large School individual top 10:
1 Rachel Campbell, 20:04.2 East Central
2 Lily Pinckley, 20:24.4 Batesville
3 Ava Hanson, 20:27.7 Batesville
4 Maria Lopez, 20:30.8 Batesville
5 Addie Brewer, 20:32.9 East Central
6 Ava Spencer, 21:10.6 Madison
7 Megan Allgeier, 21:20.2 Batesville
8 Emily Klem, 21:32.8 East Central
9 Faith Henderson, 21:57.4 East Central
10 Kendall Pflum, 22:02.6 East Central
Boys Small School individual top 10:
1 Benjamin Riehle, 18:09.4 Milan
2 Josh Pohle, 18:39.0 Jac-Cen-Del
3 Ayden Potts, 18:55.6 Milan
4 Carter Walsman, 19:19.2 Oldenburg Academy
5 Luke Bradley, 19:59.3 South Ripley
6 Logan Bradley, 20:08.6 South Ripley
7 Hayden Hooten, 20:11.0 South Ripley
8 Adam Maloney, 20:27.1 Jac-Cen-Del
9 Kameron Darnold, 20:35.7 Jac-Cen-Del
10 Evan Eaglin, 20:39.4 South Ripley
Girls Small School individual top 10:
1 Lanie Nicholson, 20:14.4 South Ripley
2 Emily Campbell, 21:58.5 South Ripley
3 Deborah Murphy, 22:36.2 South Ripley
4 Jenna Walton, 22:40.0 North Decatur
5 Cloey Simon, 23:39.3 Jac-Cen-Del
6 Kayla Simon, 24:25.2 Jac-Cen-Del
7 Renee Lillis, 24:30.7 Milan
8 Virginia Minch, 24:34.5 Jac-Cen-Del
9 Shelby Bastin, 24:38.6 South Ripley
10 Kara Young, 26:06.3 South Ripley
Batesville Invitational recaps…
Batesville's Lisa Gausman: The Bulldogs held their Batesville Cross Country Invitational with 12 teams invited to compete. Although everyone raced together, it was split up into big schools and small schools.
Both the Batesville boys and the girls were crowned champions of the big schools with East Central as the runner up. The boys scored 30 points to East Central's 59.
Benjamin Moster was the overall winner with a time of 16:29. Ean Loichinger was right behind him in 16:39. Daren Smith, Kyler Daulton and Jake Chapman were the next three Bulldogs to cross the line in 8th, 9th and 10th. Finishing out the top 7 for Batesville were Will Nuhring in 28th and Benjamin Adams in 36th. Congratulations boys!
The girls just squeezed by East Central by 3 points, winning 27-30. Rachel Campbell from East Central was the overall winner with a time of 20:04.
Batesville took the next three spots with Lily Pinckley, Ava Hanson and Maria Lopez. Megan Allgeier came through in 7th and Madison Rahschulte was 15th. Finishing out the top 7 for the Dogs were Katie Olsen in 17th and Ella Moster in 21st. Way to go ladies!
The Bulldogs also honored their 16 seniors: Sean Callahan, Kyler Daulton, Jada Eisert, Zach Gutzwiller, Maria Lopez, Lily Pinckley, Katie Olsen, Sarah Ripperger, Alyssa Linville, Jen Dodge, Ean Loichinger, Benjamin Moster, Daren Smith, Will Nuhring, Will Thomas and Derek VanSickle. Congratulations to all!
Franklin County's Stacey Nobbe: The Franklin County boys cross country team has been battling it out with Lawrenceburg all season. At the Batesville Invitational, they tied with Lawrenceburg. But unlike the EIAC meet, Franklin County took the 5th spot on the tiebreaker and Lawrenceburg took the 6th place spot. Sophomore Owen Darwish, Franklin County's number 6 runner, was the determining runner that broke the tie.
Senior Ben Maze led the Wildcats placing 16th with a time of 18:39. Senior Adam Grant was right behind him placing 19th. Their splits were almost identical until the last tenth of a mile. Ben was battling it out with Josh Pohle from Jac-Cen-Del, a small division school. Even though Ben didn't win the sprint, it gave him a faster time. Junior Hunter Marshall had his best time yet this season of 20:32. Junior Eric Schwab had a season PR with a time of 20:59.
Only three of the Franklin County girls were able to run. Esther George, Isabella Thiemann and Moorea Nobbe. Esther, once again, had a career personal best. She finished 14th with a time of 22:39. During the third mile, she dropped her time previous mile time by eight seconds as her competitors were slowing, and she moved up from 20th to 14th place. At the finish, Esther battled it out with Jenna Walton, a senior from North Decatur, but was able to sprint fiercely to maintain her lead and help her achieve a big PR
Jac-Cen-Del's David Bradshaw: The Eagle boys and girls teams both finished second in the Small School Division.
Individual finishes for the JCD boys:
Josh Pohle 2nd
Adam Maloney 8th
Kameron Darnold 10th
Cameron Reatherford 12th
Austin Rohls 21st
Gabe Maloney 23rd
Jacob Ricke 24th
Austin Hammond was 15th in the reserve race
Individual finishes for the girls:
Cloey Simon 5th
Kayla Simon 6th
Virginia Minch 8th
Allison Peetz 13th
Shelby Reatherford 14th
Kinsey Rohls 18th