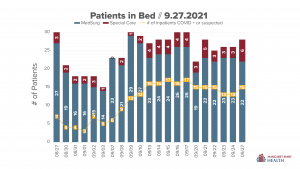 BATESVILLE, IN — Margaret Mary Health has come out with its latest COVID-19 update.
Hospital officials say there are 28 patients currently on Med/Surg floor, with six of those patients in the Special Care Unit.
Fifteen of the hospital's patients are Covid-positive, with two of those on ventilators.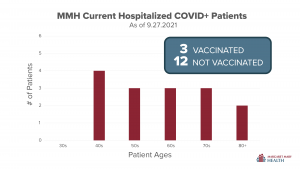 Eighty percent of the currently hospitalized COVID-19 patients are not vaccinated. (See charts for patient volumes and ages of currently hospitalized patients)
Anyone who is experiencing symptoms and needs to be tested should contact their primary care provider, who can submit an order to be tested at the Main Campus Lab.
Testing is also available at the Milan Firehouse on Monday, Wednesday, and Friday from 9 am until 5 pm.
Visit scheduling.coronavirus.in.gov to register.
To schedule a COVID vaccination or booster, contact the Margaret Mary Health Occupational Health & Wellness Center at (812) 932-5105.
Appointments are available Monday from 7:30 am until 6 pm and Tuesday through Friday from 7:30 am until 4:30 pm.