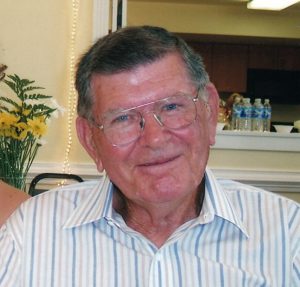 Donald "Don" Holman, 88 years old of Brookville, IN passed away on Monday, September 27, 2021. Don was a devoted husband to Rita and wonderful father to four children, eight grandchildren and twelve great grandchildren. Don enjoyed working his farm of feeder pigs and cattle, raising corn and hay to feed the animals. His children remember the true hard work of bailing hay every summer with him.  Don was an avid fisherman and hunted for rabbit and squirrel as well as raccoons for their fur. Another of his hobbies was beekeeping and kept many beehives around the farm where he rendered honey. Don shared his talents by mentoring others and would frequent the beekeeping meetings in Oldenburg. A man of many talents, Don also loved working with wood. He enjoyed building furniture, helping with house remodels, and making wood crafts including bowls, pitchers, platters, and ornaments all of which he shared with his family and friends. Walking through his fields, Don enjoyed picking wildflowers and made the most beautiful bouquets to bring home. Don was a lifelong Boy Scout and leader of Boy Scout Troop #70.
Don will be deeply missed by his wife of 68 years, Rita Holman, and children Randy (Linda) Holman of Brookville, Donna (Herb) Zahnle of Connersville, Debbie (Will) Summey of Brookville, Dave (Patty) Holman of Osgood; sister Anita Bischoff of Brookville; 8 grandchildren, 12 great grandchildren and many nieces and nephews. Donald is preceded in death by his parents Norman & Maurice Holman and brother Frank (Ann) Holman.
The Holman family will receive family and friends from 10:00am – 11:00am on Thursday, September 30 at Holy Guardian Angel Church at 405 U.S. Highway 52, Cedar Grove, IN 47016. Mass of Christian Burial will begin at 11:00am with Fr. Vince Lampert presiding. Burial will immediately follow. Memorials can be made to Holy Guardian Angel Cemetery Fund. Memorials will be accepted at the visitation or can be mailed to Andres-Wuestefeld Funeral Home at 25615 State Rt. 1, Guilford, IN 47022. Please visit www.andres-wuestefeldfh.com to offer condolences or sign the guestbook.