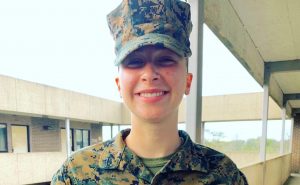 WASHINGTON, D.C. — Local U.S. Marine Cpl. Kelsee Lainhart received recognition on the floor of the U.S. House of Representatives Monday from Congressman Greg Pence (IN-06).
"Simply put, Cpl. Lainhart is a hero," said Pence during comments that aired on C-SPAN. "A native of Dearborn County, Indiana, Kelsee was assigned to secure the airport in Kabul (Afghanistan). Sadly, tragedy struck when she and her brothers and sisters in uniform were targeted by an ISIS-K suicide bomber."
The attack happened on August 26. Thirteen U.S. service members were killed, including Marine Cpl. Humberto Sanchez of Logansport.
"We will never forget Cpl. Lainhart's acts of bravery that day in Afghanistan, or her courageous fellow service members who we lost," Pence added.
Lainhart is a 2019 graduate of East Central High School. She continues her recovery at Walter Reid National Military Hospital in Bethesda, Maryland but is expected to move soon to a rehabilitation facility.
As a result, her father posted on Caring Bridge that, because of her expected move, he and his wife have decided to have all mail sent to a Post Office box and so that they can shuttle it to their daughter.
Anyone who wants to send a card or letter to Kelsee can do so at:
Kelsee Lainhart
PO Box 394
Harrison, Ohio 45030