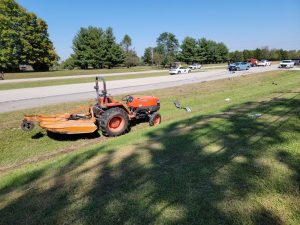 DILLSBORO, IN — Troopers from the Indiana State Police-Versailles Post along with deputies from the Dearborn County Sheriff's Office began investigating a two-vehicle crash that happened around 10 am Monday involving a car and a tractor that seriously injured the tractor driver.
The initial investigation by Trooper Andrew Garrett and additional members of the Indiana State Police-Versailles Crash Reconstruction Team indicated 27-year-old Matthew Bauer of Aurora – an employee of the Town of Dillsboro – was operating a Massey Ferguson tractor pulling a bush hog on the shoulder of U.S. 50 Eastbound near Texas Gas Road. A 2007 Toyota Camry driven by 49-year-old Keith D. Lee of Columbus, Ohio was traveling eastbound on U.S. 50 approaching Bauer and another Dillsboro town employee who were on separate tractors, working in the area.
Lee's vehicle left the right side of the roadway and struck the rear of Bauer's tractor. The impact caused Bauer to be thrown from the tractor. Bauer sustained serious injuries in the collision. He was flown from the scene to the University of Cincinnati Medical Center for treatment. Lee was uninjured in the crash.
As a result of the crash, Deputy Derek Stevens with the Dearborn County Sheriff's Office began a criminal investigation into the incident. Keith Lee was arrested for Driving While Suspended while involved in a serious injury crash and Possession of Drug Paraphernalia. Lee also submitted to a toxicology test at an area hospital. The results of the test are pending at this time. Lee may face additional charges related to the crash.
The crash investigation is ongoing.
The Indiana State Police-Versailles Crash Reconstruction Team was assisted by the Dearborn County Sheriff's Office, Dearborn County Communications, Dillsboro Fire Department, UC Aircare, the Dillsboro and Aurora fire departments, Dillsboro EMS, Aurora EMS, Lawrenceburg EMS, Dearborn County Emergency Management, and Affordable Todd's Wrecker Service.
(Indiana State Police/Sgt. Stephen Wheeles press release)