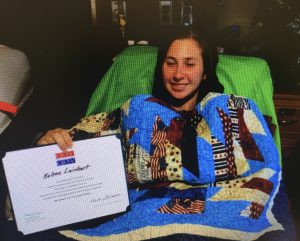 BETHESDA, MD — Local Marine Kelsee Lainhart has been accepted into a rehab facility in Chicago.
The 2019 East Central High School graduate has been at Walter Reed Hospital near Washington, D.C. since she arrived in the U.S. after she was wounded in a terrorist attack at the Kabul, Afghanistan airport, which happened a month ago Sunday.
In a Caring Bridge post, her mother writes they hope she will be transferred as early as Tuesday.
In addition to a steady stream of visitors, Cpl. Lainhart was able to go outside on Sunday and was presented with a Quilt of Valor.