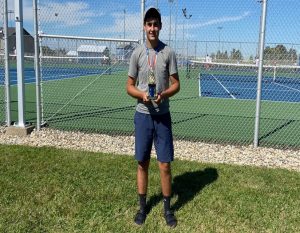 While Rushville and Connersville dominated the list of athletes who earned EIAC Boys Tennis All-Conference honors, Franklin County's Jack Stirn was at the top of the list.  Stirn won the 1st singles individual tournament to capture the MVP title.  Stirn is a two-time MVP and has not lost this season.
A complete list of the All-Conference team and a link to every match from the tournament follows.
All-Conference Team:
1st Singles Champion/MVP- Jack Stirn of Franklin County
1st Singles Runner Up- Marlon Hershberger of Rushville
2nd Singles Champion- Sam Smith of Rushville
3rd Singles Champion- Cameron Jackman of Rushville
1st Doubles Champions- Dustin McCarroll and Logan Shipley of Connersville
2nd Doubles Champions- Luke Morris and Kolton DeBoard of Connersville
Please click on this link for complete results of the EIAC Boys Individual Tennis Championships.
We thank Greensburg's Gary Bailey and Stacy Meyer for the information and Franklin County Boys Tennis on Facebook for the photo.