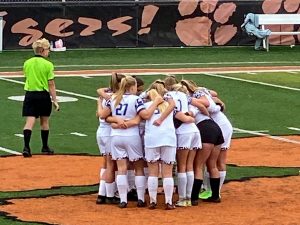 Greensburg's girls and boys soccer teams traveled to Lawrenceburg Saturday.  The Tigers won both matches.  The Lady Tigers won 8-0 while the LHS boys prevailed 11-0.
Greensburg girls coach Ryan Morlan said, "senior captain Ella Lowe saw 48 minutes of playtime in goal before she left with an injury. She defended 19 shots on goal and managed to keep all but four off the scoreboard. Junior captain and backup keeper Emilee Erstes stepped in for Lowe. She defended 16 shots and, again, only allowed four to count for the Tigers."
Morlan added, "Senior Emily Million, senior Scotlynn Reinhold and freshman Genevieve Smith had several stops and deflections from shots on goal that helped the Pirate keepers in some high-pressure attacks from the Tigers."
We thank coach Morlan for the info and photo.