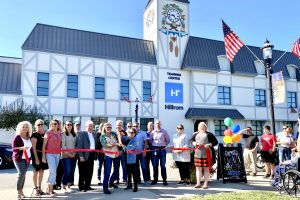 BATESVILLE, IN — A ribbon-cutting ceremony was held for the latest in a series of downtown Batesville art projects on Friday.
Local artists Chaz Kaiser and Andrea Grimsley finished work earlier this month on the Hillrom Training Center Clock Tower project on Main Street.
The moveable art piece is named Holzhacker Buam, or "The Woodsman Guys."
The piece can be seen on the Clock Tower from all four directions and is part of the HeART and Sole of Downtown Batesville Project.
This public art installation is part of the National Endowment for the Arts-Our Town Grant, which was awarded in 2018 following a collaboration between the Batesville Area Arts Council and Batesville Main Street.