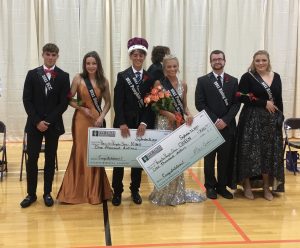 VERSAILLES, IN — Persistent rain on Wednesday forced the cancellation of the first night of midway activities at the 118th Versailles Pumpkin Show, but the King and Queen contest went on as scheduled.
Because of the soggy conditions, the event was moved indoors to the Tyson Activity Center, where it was a clean sweep for the hometown South Ripley Raiders.
Lanie Nicholson was named Queen and Ben Miller was selected to reign as King.
The King 1st runner-up was Mason Taylor from Rising Sun High School while the 2nd runner-up was Aiden Pittenger representing the Southeastern Career Center.
The Queen 1st runner-up was Rising Sun's Meranda Lozier and the 2nd runner-up was Elizabeth Gigrich from Oldenburg Academy.
The Versailles Pumpkin Show runs through Sunday.
For a complete schedule of events, click here.